"pool (no water)"
At Apollinaire Theatre
Presented In Repertory With "Luther"
In "pool (no water)," a famous artist invites old friends to her luxurious new home for a long awaited reunion. But the celebration comes to an abrupt end when the host suffers a horrific accident. An almost unthinkable plan starts to take shape: could her suffering be the group's next work of art?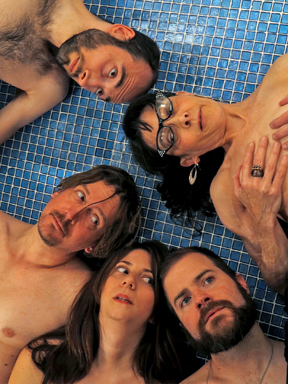 Apollinaire Theatre Company presents the play April 13 - May 4 at Chelsea Theatre Works, 189 Winnisimmet Street in Chelsea. "pool (no water)" is staged in an intimate studio setting with seating limited to 18 per performance.
Directed by Danielle Fauteux Jacques, the company includes Ronald Lacey, Chris LaVoie, Brian McCarthy, Alison McFadden, and Lorna Nogueira.
Published 10 years after his critically-acclaimed "Shopping and Fucking," this piece by Mark Ravenhill is an unflinching look at the vulnerability of friendship, the power of resentment, and a deep-seated yearning to create something truly memorable.
The New York Times commented, " . . . Mr. Ravenhill's writing has a hypnotic beauty . . .Its sneaky, almost guilty-pleasure appeal is linked to our natural identification with these attractive, articulate young men and women as they coolly rationalize behavior that, seen from the outside, might look more than a little monstrous."
Ravenhill's more recent works include "Product," "The Cut," "Citizenship," "Shoot/Get Treasure/Repeat," "Over There," "A Life in Three Acts" co-written and performed with Bette Bourne, and "Ghost Story." Mark is currently under commission to the RSC and Hampstead Theatre and is writing a new libretto for the Norwegian National Opera.
The production contains adult language and partial nudity and is recommended for mature audiences. "pool (no water)" is being performed in repertory with "Luther" by Ethan Lipton. Combo tickets are $35. Performances will be followed by a reception with the actors in the Gallery.
For tickets, call 617-887-2336 or visit www.apollinairetheatre.com.
Photo: Danielle Fauteux Jacques