"Wicked" Flies Back To Boston
September 1 - October 17
Tickets On Sale April 11
Following multiple record-breaking runs in Boston, "Wicked" will return to the Boston Opera House for a limited engagement September 1 – October 17.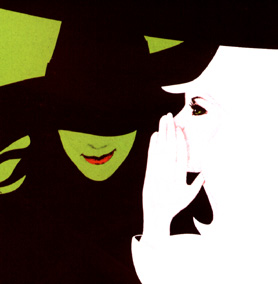 Tickets for the return engagement go on sale Sunday, April 11 through all Ticketmaster outlets, by calling 800-982-2787 or by visiting www.BroadwayAcrossAmerica.com. As of April 12, tickets will also be available directly at the box office of Boston's Colonial Theatre, located at 106 Boylston Street.
Based on the best-selling 1995 novel by Gregory Maguire, "Wicked" tells the previously untold story of the Witches of Oz. Long before Dorothy dropped in, two other girls met in the land of all things green. One -- born with emerald-green skin -- is smart, fiery and misunderstood. The other, a blonde, is beautiful, ambitious and very popular.
The musical sensation tells the journey of their remarkable odyssey, and how these two unlikely friends grew to become the Wicked Witch of the West and Glinda the Good. Winner of 35 major awards, including a Grammy and three Tonys, "Wicked" continues to play to sold out houses on Broadway.
With music and lyrics by Stephen Schwartz ("Godspell," "Pippin," Academy Award-winner for "Pocahontas" and "The Prince of Egypt") and book by Winnie Holzman ("My So Called Life," "Once And Again" and "thirtysomething"), "Wicked," is directed by two-time Tony Award winner Joe Mantello ("Take Me Out," "Love! Valour! Compassion!," "The Vagina Monologues") and features musical staging by Tony Award winner Wayne Cilento ("Aida," "The Who's Tommy," "How To Succeed…").
Drew Murphy, President of Broadway Across America – Boston, commented, "There is no question, 'Wicked' is a favorite amongst Boston audiences. We are delighted to once again bring this stellar production back for audiences of all ages to enjoy. 'Wicked' is a precious and memorable theatrical experience whether you are seeing it for the first time or reliving the magic again."
Called "a cultural phenomenon" by Variety and just named "the defining musical of the decade" by The New York Times, "Wicked" continues to thrill audiences around the world. There are currently eight productions playing worldwide, including two North American tours, a San Francisco production, London production, a Japanese-language production, a German-language production and Australian production. A Dutch-language production of "Wicked" is set to open in 2011.
Read R. J. Donovan's 2007 review of "Wicked's" first appearance in Boston here.