A Review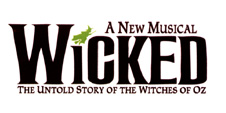 Like A Handprint On The Heart
By R. J. Donovan
Following it's sold-out 2006 Boston run, "Wicked" has returned for another go round at The Opera House. Happily, it's maintained its bright look and bristling enthusiasm as it shares its touching portrayal of a rather unusual friendship.
Added viewings only point up how cleverly constructed the show really is. This was my third visit (New York once, Boston twice), and I've found new surprises each time.
For the uninitiated, "Wicked" is the previously untold story of the Witches of Oz. Music and lyrics are by Stephen Schwartz with a book by Winnie Holzman, based on the novel by Concord's own Gregory Maguire.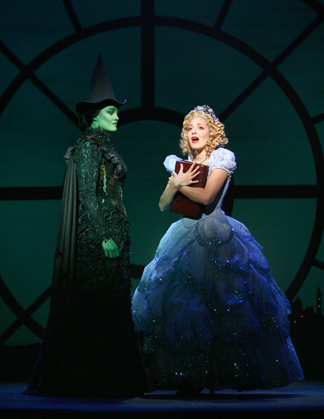 It turns out that long before Dorothy fell from the sky, The Wicked Witch of the West (Elphaba) and The Good Witch of the North (Glinda) were friends. They met in school, initially hated each other but ultimately came to form a solid friendship.
We also learn that the green-skinned Elphaba (named in a clever tip of the hat to Oz writer L. Frank Baum -- L. F. Ba, get it?) did not start out bad. Nor was Glinda blessed with glistening goodness.
As Glinda asks at the top of the show, "Are people born wicked, or do they have wickedness thrust upon them?" Such was the case with Elphaba. The legend she would become is slowly draped over her in layers as the story proceeds.
At the same time, Glinda initially shows herself to be a spoiled, selfish manipulator who does whatever it takes to get her own way. She finds her way to becoming a nicer person. Ultimately we learn that evil isn't all bad and good isn't necessarily all good.
The show is thoroughly enjoyable if the story's all new to you. But with multiple viewings, there's added magic in seeing how almost every moment in the production foreshadows something yet to come.
The special sheen with the cast currently working their magic at The Opera House is that the two leading ladies are very evenly matched. As the roles are written, both have a lot of offer, however Elphaba often comes off as the more colorful (pun, fully intended.)
This time around, Christina DeCicco is a comical firecracker as Glinda. She's silly without acting stupid, she puts across remorse without becoming maudlin, and through it all, she's just plain funny. She makes "Popular" a stunner.
Elphaba is played by Victoria Matlock, who does a nice job developing the role of the outsider who pretends she doesn't care about being ostracized. While she had to strain a bit for some of the high notes on opening night, she's wonderful in her quieter, more thoughtful moments, particularly the touching "I'm Not That Girl."
The rest of the cast is first-rate, particularly Brad Weinstock in the smaller role of Boq, and Deedee Magno Hall as Elphaba's sister Nessarose. Both have wonderful singing voices -- and Hall could be a formidable Wicked Witch if given the chance.
In the end we learn that people are different, you shouldn't judge a book by its cover, and that national tours can remain sharp and thoroughly enjoyable even after two years on the road.
"Wicked" is at The Opera House, 539 Washington Street in Boston, through November 11. For information, call Ticketmaster at 617-931-2787.
Production Photo: Joan Marcus
-- OnStage Boston