Trinity Rep Kicks Off 50th Season
With Steinbeck's "Grapes of Wrath"
Trinity Repertory Theatre in Providence will kick off its 50th Anniversary season with John Steinbeck's "The Grapes of Wrath," the definitive American tale of the strength of family and the human spirit set in the aftermath of the Great Depression.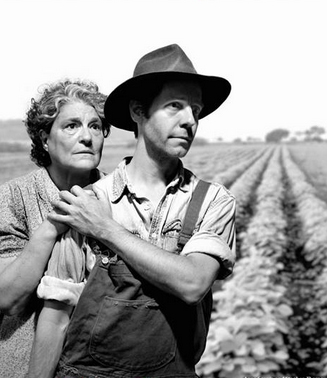 Part naturalistic epic, part road novel, part inspirational gospel, "The Grapes of Wrath" boasts a 17 member cast and original folk-rock music from the show's band, 3pile. Adapted for the stage by Frank Galati and directed by Brian McEleney, the production will run September 5 - October 6 in Trinity's Dowling Theater.
Written in the wake of the Great Depression, "The Grapes of Wrath" speaks to the same harsh realities that America faces today. Natural disasters. Rampant foreclosures. Corporate greed and record joblessness. The story of a nation is told through the eyes of one Oklahoma clan -- the Joads -- driven off their farm and forced west to find work in California's "promised land." Throughout their epic journey, the family refuses to lose hope in the face of suffering as they cling furiously to their human dignity.
Led by resident acting company member Stephen Thorne as Tom Joad, the cast features fellow acting company members Stephen Berenson, Janice Duclos, Mia Ellis, Anne Scurria, Fred Sullivan, Jr., Charlie Thurston and Joe Wilson, Jr. with guest artists Jessica Crandall and Richard Donelly, and Brown/Trinity Rep MFA actors Alex Curtis, Sherri Eldin, Ben Grills, Zdenko Martin, Nikki Massoud, Ted Moller and Matt E. Russell.
McEleney commented, "There is such a need to tell this story now in a very real, very understandable way. People should not be able to walk away from this and say, 'Oh, that was fun, what a nice re-enactment of Americana.' We have seen natural disasters like Katrina, and we have also seen our neighbors lose their jobs and their homes to foreclosure. The Joad family experiences those same things, and there is a very heroic example to be found in their ability to not be overwhelmed and in fact, endure these trials. I hope audiences will join us on this adventure, this journey, and really experience this truly great American novel in a contemporary way rather than at a nostalgic distance."
McEleney and his design team have transformed the Dowling Theater space into an intimate and rustic country bar setting. The production will be staged in the round. Set designer Michael McGarty has built a functioning bar in the middle of the playing area, and the bartenders will be serving patrons before and after the performance while the house band plays.
Friday, September 6 has been designated Pay What You Can night, with tickets on sale at 6:30 p.m. that evening, with a limit of one ticket per person. As well, talkbacks will be held after every performance with audiences invited to share their response to the play's production and themes.
For tickets and information, stop by the box office at 201 Washington Street, call 401-351-4242 or visit www.trinityrep.com.