A Review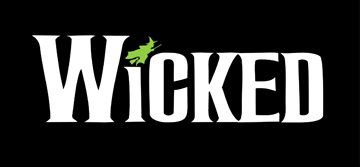 The Phenomenon Returns
By R. J. Donovan
Back for a third visit to Boston, "Wicked"still has all the fun and dazzle intact. For a show that's been on tour for so long, the production happily remains as tight and fresh as the original.
For the few uninitiated, this is not just another retelling of "The Wizard of Oz." Rather, it's the back story of the two girls who grew up to become Glinda, The Good Witch of the North, and Elphaba, the Wicked Witch of the West.
Music and lyrics are by Stephen Schwartz with a book by Winnie Holzman based on the novel by Gregory Maguire. Directed by Joe Mantello with musical staging by Wayne Cilento, the story is told as one long flashback.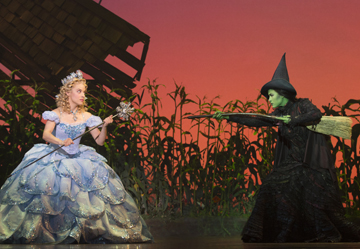 As in all good fairy tales, there's more at play here than appears on the surface. And some of it is fairly dark. Two very different young ladies from two completely different backgrounds cross paths while attending the same school. Fireworks prevail.
One is blonde and endlessly perky. The other is sullen and decidedly green. And through no fault of their own, they wind up as roommates -- which neither appreciates since each girl loathes the other. From there, the story touches on prejudice, bullying, political power, emotional manipulation, hidden agendas, unrequited love and the question of whether evil is taught or comes from within.
We eventually learn that neither good nor evil is absolute. People contain varying degrees of both. We also find that pretty much everyone is dysfunctional -- it's purely a matter of degree.
In the merry old land of Oz, Elphaba (her name is a tip of the hat to "Oz" author L. Frank Baum -- L. Fa.Ba, get it?) was born with green skin, much to the horror of her parents. Rejected, with no friends and no prospects, she is alone in life. When she and Nessarose, her crippled sister, head off to Shiz University, she is handed the task of taking care of her disabled sibling, which she takes on because she knows that in the question of choice vs. responsibility, it's the right thing to do.
Meanwhile, Glinda -- born Galinda, don't cha know -- arrives at the school on a cloud of designer luggage. She's a vision in opulence. And she's spoiled rotten.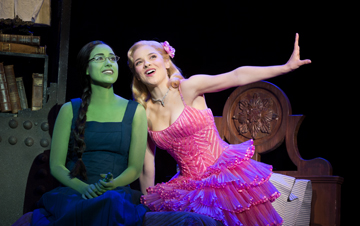 Traveling by bubble and peppering her speech with affectations (calling her parents Momsy and Popsicle, rejoice-ifying the moment and pondering the confuse-ifiying.), she wants what she wants when she wants it. Which is usually now. Outwardly angelic, her darker side is thinly concealed beneath her oh-so-polished veneer and curls.
What no one knows is that Elphaba has a wheelhouse of yet-to-be tapped sorcery talents at her fingertips. All of which means she'll be singled out to meet and study with The Great & Powerful Wizard of Oz himself. Meanwhile, love triangles arise at school and the competition swirls.
Jenn Gambatese gives the role of Glinda it's expected sparkle and preening, bouncing her curls while singing like an angel. She's funny and cartoony and manipulative, all while building towards a wiser Glinda who's been tempered by the final curtain.
Of the two lead characters, it's Elphaba who gets the edge as the role is far flashier and more colorful (no pun intended). On opening night, Laurel Harris, who's normally stand-by for the role, stepped into Elphaba's dark, pointy shoes and gave an absolutely powerhouse performance. Her first big number is "The Wizard and I," and by the end of it, she had the audience squarely in the palm of her hand. (Who among us can't identify with being the rejected outsider at one time or another?)
Harris sings with wonderful range, giving the role a complex shading (again, no pun). She makes Elphaba incredibly sympathetic while also essaying her with an incredible power that even Elphaba doesn't yet fully understand.
The iconic Act One finale, "Defying Gravity," is always a high point in the show as Elphaba comes into her own and flies above the stage. The moment was nothing short of smashing as Harris sang with zeal and clamped the number with a button that rightfully brought cheers at the blackout.
To confess, "No Good Deed" in the second act has always been my least favorite song in the show. It can come off as shrill and shrieky. However, in Harris's hands, it was like listening to it for the first time. She gave a fully realized performance that brought out every vocal nuance beautifully.
The anchor of the show is Stephen Schwartz's score . No matter how comical (and yes, sometimes silly) the action gets, it's the songs that pull it back to its true heart -- from "No One Mourns The Wicked" and "Popular" to "I'm Not That Girl" and the moving Act Two duet, "For Good," which stands alone as a lovely assessment of how we can so deeply affect the lives those around us.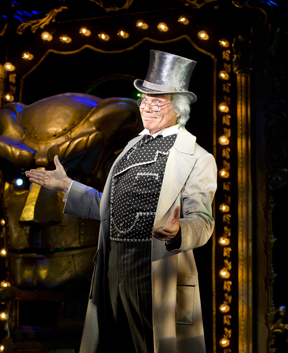 It was a treat to see John Davidson (left) as The Wizard, the man behind the curtains who's up to no good. Once known as the boyishly handsome pop singer and TV host, Mr. D. applies his considerable stage skills to the role, effortlessly giving every line an added depth. As school mistress and assistant to the Wizard, Kim Zimmer (widely known for her role as Reva Shayne on "The Guiding Light") brings similar skill to the role of Madame Morrible. She's got a special way with a dismissive zinger. Both of these seasoned performers spin every tidbit of gold from their dialogue. Finally, stage veteran Clifton Davis is Doctor Dillamond, history professor at the University who sadly finds the tables turned on him by the powers-that-be.
Without spoiling too much of the side stories for those who have yet to experience "Wicked," the show also provides a explanation of how The Tin Man, Scarecrow and Cowardly Lion came to be. And for those who expect to see Dorothy pop up, be informed that she's a part of the story for about 20 seconds, and then only as a shadow.
And then there's that revolving door of intricate love triangles. Nessarose is in love with Boc the Munchkin, who's in love with Glinda, who ignores him to apply her wily ways on Fiyero, who actually has eyes for Elphaba.
As Boc, Jesse JP Johnson gives an endearing performance as the sweet, eager young guy with the crush that's ignored. Curt Hansen is Fiyero, the Winkie prince who's got dashing good looks and not much else. And Jaime Rosenstein is Nessarose, who eventually becomes The Wicked Witch of the East (who, as we all know, gets a house dropped on her).
The sets, designed by the award-wining Eugene Lee, are modified a bit from the larger New York production for touring purposes, but they're still effective and fun to watch, from the snarling dragon that looms overhead to the gears and widgets that spin and crank as the story unfolds.
In the end, everyone's changed a little, learned a little, and grown a lot. The journey may be bittersweet, but as the lyrics in "For Good" tell us, it's the detours in life that provide the real lessons.
"Wicked," at The Opera House," 539 Washington Street in Boston, through September 15. Call 1-800-982-2787.
-- Production Photos: Joan Marcus
-- OnStage Boston