Guerilla Opera To Present "No Exit" & "Gallo"
For its seventh season, Guerilla Opera has scheduled: an original production of Andy Vores's "No Exit" from September 19 - 22, 2013, adapted from the play by Jean-Paul Sartre with stage direction by Nathan Troup; and the world premiere of "Gallo" in May 2014, with music and libretto by Ken Ueno and stage direction by Sarah Meyers.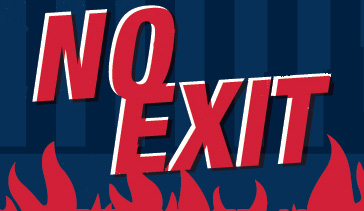 All performances will take place in The Zack Box Theater at The Boston Conservatory, 8 The Fenway in Boston.
Beginning September 9, tickets for "No Exit" may be purchased from The Boston Conservatory Box Office by calling 617-912-9222 or visiting bostonconservatory.edu.
"No Exit"
September 19 - 22, 2013
Adapted from Jean-Paul Sartre's play of the same name, this opera tells the story of three people ushered into a room in hell only to discover there's no greater demonic torture than each other. "No Exit" was commissioned and premiered by Guerilla Opera in April 2008 to much acclaim. Lloyd Schwartz, formerly of The Boston Phoenix, wrote that "No Exit" was "the best new opera of 2008," while Richard Dyer, formerly of The Boston Globe, was quoted in The Boston Conservatory's STAGES Newsletter as saying that "No Exit" was "a signature event of the city's 2007-2008 season."
"Gallo"
May 2014
"Gallo" is an evening-length chamber opera that investigates how the landscape and man shape and transform each other. The main inspiration for the work is found in places where traces of human civilization -- ancient and modern -- have decayed over time and been transformed into landscapes that now appear to be more natural than man-made. While these spaces are repositories of human memory, they also confound man's sense of agency and freedom, as well as his sense of mastery over nature. (The unique evening promises to be visually exciting, featuring a beach made out of Cheerios and a countertenor vocalist in a chicken suit.)
This season is made possible through the generosity of Timothy and Jane Gillette and The program.
Guerilla Opera is a collaborative performing ensemble whose mission is to commission new chamber operas written specifically for their ensemble of artists, to perform in intimate theatrical settings, and to perform in a highly collaborative environment resulting from the direct communication between performers without a conductor or formal music director.
For more information visit www.guerillaopera.com.