Colin Quinn
Is "Unconstitutional"
At Trinity Rep
One Night Only, Saturday, September 28
Trinity Repertory Theatre will present popular stand-up comedian and "" veteran Colin Quinn in his one-man show, "Colin Quinn Unconstitutional" at The Chace Theater on Saturday, September 28. Show time is 8:00 p.m.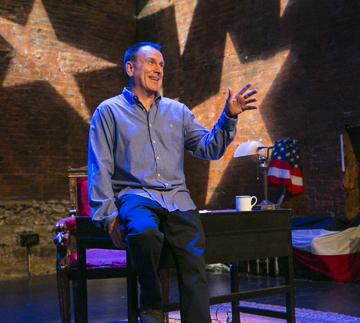 "Unconstitutional" tackles 226 years of American Constitutional calamities in 70 minutes. On May 25, 1787, 55 delegates in wigs and tights sat down to create a country from scratch. Fast forward to 2013, where Colin Quinn offers his unique comedic perspective on our national character.
Fast on the heels of an extended run at Manhattan's Cherry Lane Theater, Quinn is taking his show on the road, traveling to the original 13 colonies, in the spirit of the Constitution.
Critics and audiences alike have been delighted with the result. The New York Times praised the evening saying it's "a pleasingly funny amble through American history" with The Hollywood Reporter hailing Quinn as "the best college history professor that you never had."
Quinn began his career in comedy clubs and has been seen on television in "Remote Control," "Saturday Night Live" and "Tough Crowd with Colin Quinn." His film work includes "A Night at the Roxbury," "Comedian" and "Grown Ups."
His one-man show "Sanctifying Grace" began Off-Broadway and transferred to Broadway as "Colin Quinn - An Irish Wake" in 1998. "Colin Quinn Unconstitutional" marks Colin's return to the stage after his acclaimed Broadway engagement of "Long Story Short," produced by Jerry Seinfeld. "Long Story Short" earned him nominations for both a Drama Desk Award and an Emmy Award for the HBO broadcast of the play.
For tickets and information, stop by the box office at 201 Washington Street in Providence, call 401-351-4242 or visit www.trinityrep.com.
-- Production photo: Mike Lavoie