Boston Children's Theatre
Has Magic To Do
With "Pippin"
Six Performances Only
July 18 - July 21
Boston Children's Theatre will present "Pippin" -- the magical musical that recently won four Tony Awards, including Best Revival of a Musical -- from July 18 - 21 at The Governor's Academy located at 1 Elm Street in Byfield. The production, to be performed by two casts, will showcase the talents of 58 Summer Studio 3 students who range in age from 9 - 14.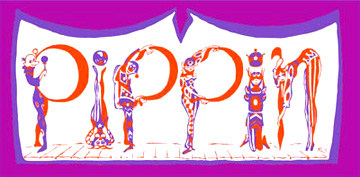 With a score by Stephen Schwartz, composer of "Godspell" and "Wicked," and book by Roger O. Hirson, "Pippin" follows a young man on his journey toward finding meaning in his life. Will he choose a happy, simple existence or risk everything for a moment of glory?
Featuring such songs as "Corner of the Sky," "Magic to Do," "Glory," and "Morning Glow," "Pippin" is directed by Lisa Yuen, director of BCT's 2012 Studio 3 production of "Legally Blonde. "Choreography is by Blair Beasley and Brianna Fallon with music direction by Jaime Castellanos.
BCT Executive Artistic Director Burgess Clark commented, "It was wonderful to watch the Tony broadcast and see 'Pippin' win the prestigious award. We had already planned on producing the show this summer and the Tony made it that much more exciting for the students. The score is phenomenal and I know that under the direction of veteran Broadway actress and talented director Lisa Yuen, audiences will be enthralled by what they see and experience in the theater!"

Presented by two casts, "Pippin" features students from 38 local communities and Germany, including Arlington resident Marshall Joun; Belmont resident Maerose Pepe; Beverly resident Brigid Waldron; Beverly Farms resident Tori Cargill; Boxford residents Annebelle Collins, Wes D'Alelio, Grace Studley and Charlotte Wallace; Brookline student Lindzi Hutchinson; Byfield resident Miles Tardy; Cambridge residents Leo Kupferberg and Theodora Lim; Charlestown resident David Sullivan; Danvers resident Lucy Desmond; Dorchester resident Journey-Ade King; Essex resident Jillian Furber; Exeter, N.H. resident Alba Clarke; Georgetown resident Isabella Berkeley; Groveland resident Chloe Webster; Ipswich resident Sophia Miller; Jamaica Plain residents Callie Demos and Adam Wintzer; Lexington resident Genevieve Wharton; Lynnfield resident Brie Giamarco; Manchester, N.H. resident Evan Dell; Manchester, MA residents Evan Dell and Margaret McFadden; Marblehead residents Sophia Baum and Penny Walker; Medford resident Sarah Pollack; Milton resident Alex Dhima; Newbury resident Eleanor Faria; Newburyport residents Sean Doucette and Claire Thibeault; Newton residents Francesca Bossio, Tema Siegel and Yarden Yacoby; North Andover residents Hannah Onofrio, Elizabeth Packard, Kate Packard, Danielle Page, and Alyssa Peltonovich; Peabody resident Makenzie Horner; Pembroke resident Elena Gosalvez; Rowley resident Brendan Callahan; Salem resident Emma Bassett; Salisbury resident Harry DiTullio; South Boston residents Alessandra Antonelli, Erica Jurus and Brendan O'Brien; South Hamilton resident Carly Comparato; Sudbury resident Owen Sherrin; Swampscott resident Glenn Sanphy; Wakefield resident Max Roberts; Wenham resident Emme Morales; West Newbury resident Megan Kempton; and Westborough resident Deirdre Pedersen. "Pippin" also features Lisiane Bies of Germany.
For tickets and information, call 617-424-6634 x222 or visit www.bostonchildrenstheatre.org.