Elements Theatre Company
Celebrates The Bard's 450th Birthday
With "A Midsummer Night's Dream"
Elements Theatre Company of Cape Cod will kick off its 2013-14 year-long tribute to William Shakespeare with one of his most popular comedies, "A Midsummer Night's Dream," playing August 9 - 18 at Paraclete House, Rock Harbor, Orleans. (On August 10, 16 and 17, a special dinner/theater package is also available.)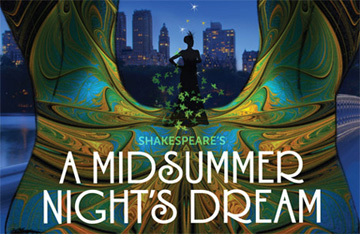 Set in modern-day Central Park, this comedy of love in its many guises brings together star-crossed lovers, quarreling kings and queens, mischievous fairy sprites and a ragtag troupe of traveling players, all caught under the summer moon's intoxicating spell. As romance and ambitions of grandeur run rampant, it becomes difficult to tell the difference between the lovers, the lost souls and the fools.
The inspiration for numerous adaptations, including Ingmar Bergman's "Smiles of a Summer Night," Stephen Sondheim's "A Little Night Music," and a star-studded 1999 feature film with Kevin Kline and Michelle Pfeiffer, "A Midsummer Night's Dream" provides an ideal escape for a warm summer's eve.
Sr. Danielle Dwyer, Elements Artistic Director commented, "Since' A Midsummer Night's Dream' is often a young theater-goer's introduction to the works of William Shakespeare, we felt it would be a wonderful opening to our 2013-14 season. During this 450th anniversary year of his birth, we want to celebrate the impact he has had on the modern theater and revel in his genius for touching and illuminating audiences with a deep understanding of the full spectrum of the human condition."
For information and tickets, call 508-240-2400 or visit elementstheatre.org
--OnStage Boston
07-07-13