"Love, Loss and What I Wore"
From Hub Theatre Company
Hub Theatre Company of Boston continues its debut season with the Boston premier of "Love, Loss, and What I Wore" by award-winning screenwriters and authors Nora and Delia Ephron, based on the book by Ilene Beckerman. The production will run July 19 - August 3 at The First Church in Boston at 66 Marlborough Street in the Back Bay.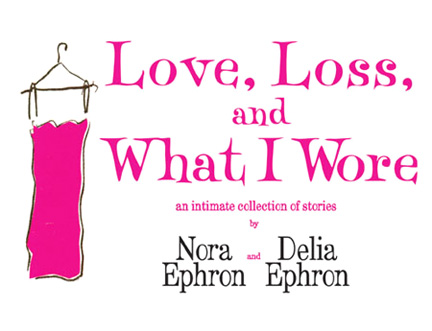 In order to cultivate a diverse audience spanning all ages and backgrounds, all tickets are Pay-What-You-Can. In addition, at each performance donations of gently worn clothing will be collected for charitable organizations.
Like a long heart-to-heart with a best friend, this intimate and engaging collection of stories captures a woman's life through her wardrobe as it meanders from musings over wedding-day attire to a rant about loathing the need to carry a purse.
With odes to first bras, cowboy boots and outfits that made mothers cringe, "Love, Loss and What I Wore" evokes funny memories and poignant stories about painful heels, comfy Birkenstocks and having to choose between the two.
Five of Boston's best dressed actresses -- Theresa Chiasson, Adobuere Ebiama, Lauren Elias, Linda Goetz, and June Kfoury -- will bring these stories to life. Three-time Elliot Norton Award winning and four-time IRNE award winning actress Paula Plum will direct.
"Love, Loss and What I Wore" opened off-Broadway in 2009 at The Westside Theatre, where it continues to run. The producers have continually recast the show in short runs that have featured everyone from Rosie O'Donnell to Brooke Shields, Kristen Chenowith, Donna MacKechnie, Carol Cane and Debra Monk among many others. In addition to receiving the 2010 Drama Desk Award for Unique Theatrical Experience, the play has been produced on six continents.
The Hub Theatre Company of Boston, Inc., is a non-profit organization committed to entertaining and emotionally engaging theater in intimate settings.
For reservations and information, visit www.hubtheatreboston.org.