"Supergravity And The Eleventh Dimension"
From Vagabond Theatre
July 11 - 20
Vagabond Theatre Group will present "Supergravity and the Eleventh Dimension," by Boston Playwright Heather Houston from July 11 - 20 at the Factory Theatre, 791 Tremont Street in Boston.
If energy cannot be created or destroyed, what happens to our energy after we die? Where are those who are no longer with us?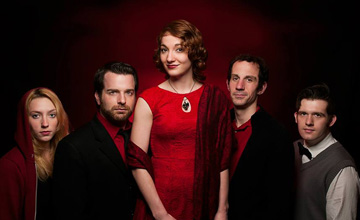 One year after Carmen tumbles from a cliff, her friends, Tom, Leslie, Dan and Fred, return to her cabin one last time. Seen through the eyes of a theoretical physicist, the story of suspicion, grief, love and life, bounces back and forth through time, slowly revealing the truth about Carmen's tragic last days.
Directed by James Peter Sotis, the production features Rachel Katherine Alexander, Kevin Paquette, Alyssa Purnhagen, Devon Scalisi and Noah Tobin.
Heather Houston, a graduate of Boston University's MFA Playwrighting program, has had plays produced for the Boston One-Minute Play Festival and the Boston Theatre Marathon. She has completed two full-length plays, "One Night Dream" along with "Supergravity," which received a public reading at the Boston Playwright's Theatre in 2011.
Sotis commented, "'Supergravity' is an extraordinary piece of work. While the play does use deep science as a filter, at its heart it is a story about a group of friends dealing with loss. The memory of Carmen and her tragic end haunts the group, and the remaining friends need to bend the laws of physics to work through their suspicions, grief, anger and sadness. When they slowly bring the truth of her death to light, they all have to reconcile what actually happened that last night against their own versions of reality -- whether or not it shatters their own private universe."
For information and tickets, visit BrownPaperTickets.com.