ArtsEmerson Presents
The Shakespearean Jazz Show
The Bard With A New Orleans Beat
To bring a little extra sizzle to the summer, ArtsEmerson: The World On Stage will present The Shakespearean Jazz Show, a concert presentation of New Orleans-style jazz with Shakespeare's words, scheduled to coincide with the Outside the Box Festival.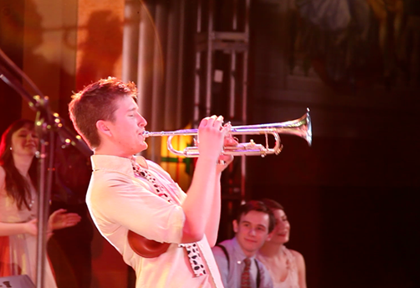 The performance will take place Thursday, July 18 at 8 p.m. at The Paramount Center Mainstage, 559 Washington Street. The Shakespearean Jazz Show is a Boston-born project created by young artists from Emerson College and Berklee College of Music.
Energetic and innovative, The Shakespearean Jazz Show is designed to reinvigorate and recontextualize the Shakespearean experience. The loose, improvisational nature of jazz music frees the original text, allowing the feeling and intent of the Bard's words to be expressed in a completely new way.
The Nine Worthies band, whose name is born from Shakespeare's "Love's Labour's Lost" will collaborate with the ensemble, providing a parade of Shakespearean sonnets, songs and scenes composed to original New Orleans-style jazz.
For tickets and information, stop by the box office, call 617-824-8400 or visit www.artsemerson.org.