A Review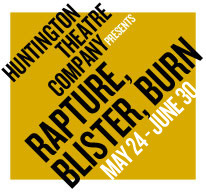 The Road (Not) Taken
By R. J. Donovan
The Huntington is closing out its season with "Rapture, Blister, Burn," a finalist for the Pulitzer Prize by playwright Gina Gionfriddo, examining three generations of women and the choices / concessions they've made.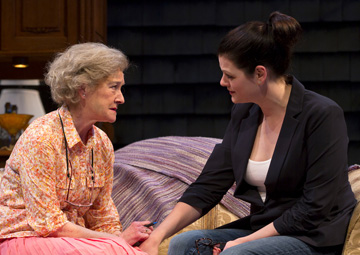 Catherine (Kate Shindle), a renowned feminist, is the career-focused entry -- a scholar who's written and traveled extensively, served as an authority on talk shows and, in general, excelled professionally. But she's got no family, except her Mom (Nancy E. Carroll, far left, with Shindle), who's now ill and in need of a little help. So Catherine returns to her New England college home town, moves in with Mom (representing the old fashioned generation of women), and takes a job teaching at the local fourth rate liberal arts college.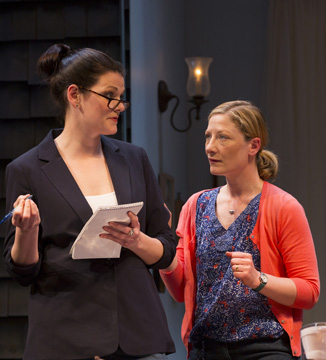 As a result, she's also reconnecting -- a dozen years later -- with her old college chums. Chum #1, Gwen (Annie McNamara, at left with Shindle), has had the opposite life experience in that she's chosen home, hearth and family vs. a career. Chum #2, Don (Timothy John Smith), Gwen's husband, is a dean at the aforementioned college. We also learn that Don paired off with Catherine in college. However Gwen snatched him away.
Adding the third generation to the mix is Avery (Shannon Esper, who bares more than a passing resemblance to Zooey Deschanel), baby-sitter to Gwen and Don and a student at the college.
Having devoted her life to her work, Catherine is overwhelmed facing her mother's mortality.When her mother passes, she'll have no one to be with, no one to rely upon. Meanwhile, the clock is ticking. Was her career worth the void she now sees looming before her?
She still needs to earn a living while she's in town, so Don gets her a job teaching at the college. Her first assignment is a summer workshop on the fall of the American civilization. She's surprised to find her eager students number precisely two -- Gwen and Avery. The discussion of feminism roars from Phyllis Schlafly to Dr. Phil. Her lectures all sound a bit textbook, but that's appropriate as her trump card is that of high-profile author.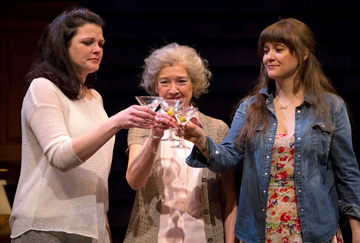 The three begin a tradition of debating the role of women in the world, sharing ideas and opinions, before ending class with cocktails. For the libations, they are joined by Catherine's mother, continuing the discussion of life and love and the role women have played through the years.
Clearly, each generation sees it differently, from choices to discrimination to manipulation. With a certain level of personal discontent, all four debate whether women can "have it all." The discussions soon take on the tone of a slumber party.
Has Gwen wasted her life having children and dumbing down her conversations for lack of intellectual stimulation? She questions whether she should have gone for her advanced degree. Meanwhile, her husband is the stereotypical underachiever. Don does just enough to get by, drinks to excess while spending his afternoons smoking pot and his evenings pursuing online porn. Any aspirations to publish and / or rise to a better position are best left not discussed.
In the end, the grass always looks greener. In this case they take the envy one step further by agreeing to swap lives. Catherine rekindles her relationship with Don -- first in secret and then out in the open -- ultimately hooking up with him in a rather unconventional household. Gwen, who approves of the situation, scampers off to New York to experience life and ponder advancing her education.
What's fun is how archaic both Gwen and Catherine appear to Avery. She just doesn't get why they chose as they did. However, in the end, the generational roles reverse and the student becomes the teacher while the actual teacher -- a superstar who's supposed to be the scholarly expert -- shows she's got quite a bit to learn.
While this could all have veered into a severely radical rut, Gionfriddo delivers a script that's bright and funny (although sometimes in a sitcom way) and very accessible, no matter your age or gender. Each character is a unique being, and each actress hones the role as her own. Nancy E. Carroll, in particular, uses her considerable skill to make the most of the script, often turning what could be a simple, toss-away line into a delightful scorcher.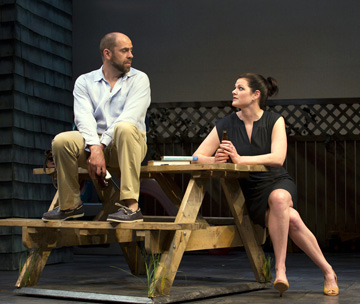 The character of Don (Timothy John Smith, far left) is the sad sack here. He's content with life being as unchallenging as possible. Yet in reality, he's the only one who's gotten both a career and family, although both achievements have been sadly diminished to the lowest common denominator.
We all struggle with choices and regret, mulling over the "what if's" that never were. In this case, after each player has had her walk on the wild side, each sees that she may have been exactly where she belonged originally.
Director Peter DuBois keeps the pace tight. So tight, in fact, that on opening night the cast occasionally failed to wait for the laugh, leaving the audience straining to hear the continuing dialogue. Hopefully that lessened as the run continued.
Special mention needs to go to Alexander Dodge's set. The basic frame is a heavily weathered New England cottage, with the individual rooms creatively sliding on and off as walls and panels fold open and close. Dodge's design not only makes efficient use of the limited space but makes the intimate stage of the Wimberly Theatre appear far larger than it actually is.
"Rapture, Blister, Burn" is at The Calderwood Pavilion through June 30. For information, call 617-933-8600.
-- Production Photos: T. Charles Erickson
-- OnStage Boston