Apollinaire Theatre Presents
"The Caucasian Chalk Circle"
July 10 - 27
Performances Are Free And Bilingual
Apollinaire Theatre Company's 10th year of offering free bilingual productions continues with Bertolt Brecht's "The Caucasian Chalk Circle" from July 10 - 27. Brecht's parable of right and wrong will be presented in English and Spanish on alternating nights in Chelsea's Mary O'Malley Park located in Commandant's Way on the Chelsea Waterfront. All performances are free and open to the public.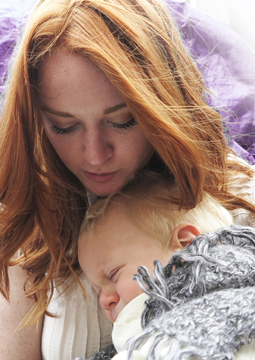 Brecht throws the audience into the action when a coup brings down the social order. The intertwining tales of Grusha (a young kitchen maid who rescues a baby abandoned by his royal mother) and Azdak (a drunken scribe suddenly elevated to high court judge) cross when Azdak must determine the fate of the child.
Brecht borrows the idea of the chalk circle from an ancient Chinese folktale as Azdak places the child in the circle for a winner-takes-all tug of war between Grusha and his high born mother.
Directed by Danielle Fauteux Jacques, the cast features Courtland Jones, Dev Luthra, Noelle Vinas, Victor Hugo Arellano, Paola M. Ferrer, Tony Dangerfield, H.R. Britton, Joe A. Ogando, Kelly Chick, Lauren Thomas, Liz Adams, Mauro Canepa, Melissa Nussbaum Freeman and Mike Handelman.
This production features an original score by Boston composer David Reiffel, who is best known locally for his work as a sound designer and composer at area theaters including New Repertory Theatre, Actors' Shakespeare Project, and the Stoneham Theatre. He has written six original musicals, more than a dozen musical adaptations, and incidental music for many plays, including the 2012 "Romeo and Juliet" at the Oregon Shakespeare Festival.
In Apollinaire tradition, the audience will move throughout the park to new locations as the performance proceeds, following the travels of the characters. Audience members are encouraged to bring blankets and beach chairs, plus a picnic to enjoy along with the Boston harbor views.
English performances will be given on Wednesday, July 17 and 24 plus Thursdays, Saturdays, and Sundays. Spanish performances will be given on Wednesday, July 10, plus Fridays.
Less than five miles from downtown Boston, Apollinaire Theatre Company stages passionate plays at their elegantly restored theater in the Chelsea Theatre Works, in addition to New England's only bilingual free summer theater in the park.
For information, call 617-887-2336 or visit www.apollinairetheatre.com.
In case of rain, call 617-887-2336 to check performance status.
Photo: Danielle Fauteux Jacques
-- OnStage Boston