---

PBS Series "Selected Shorts On Tour"
Plays The Huntington
On June 8
Huntington Theatre Company in association with Jonathan Reinis Productions and WGBH will present the hit PBS series and podcast "Selected Shorts on Tour: Tales of Springtime, Sex & Baseball" at the Boston University Theatre on June 8 at 4 and 8 p.m.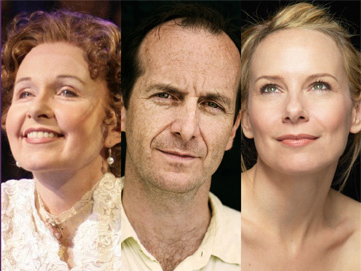 Tony Award nominee and Emmy Award winner Kate Burton ("Grey's Anatomy," "The Cherry Orchard," and the upcoming "The Seagull" at the Huntington), Emmy Award nominee and Tony Award winner Denis O'Hare ("True Blood" and "American Horror Story"), and Academy Award nominee Amy Ryan ("Gone Baby Gone") will perform powerful, surprising, romantic, and funny stories by comic master Dorothy Parker, baseball writer W. P. Kinsella (Shoeless Joe), and quirky contemporary humorists Aimee Bender and N. M. Kelby.
Each "Selected Shorts" presentation features short stories -- always fiction, a mix of classics and new -- centering on a theme and brought to life in performance by great actors from stage, screen, and television. The weekly public radio show is broadcast to roughly 300,000 listeners on more than 140 stations including Boston's WGBH, where it airs on Sundays at 4 p.m. It is produced by Symphony Space and WNYC Radio and distributed by Public Radio International. The "Selected Shorts" podcast consistently ranks as one of the most popular podcasts on iTunes.
Kate Burton has previously appeared at the Huntington in "The Corn is Green," "The Cherry Orchard," and "Hedda Gabler." She will return in March of 2014 in Anton Chekhov's "The Seagull" directed by Nicholas Martin. Ms. Burton was nominated for Tony Awards for "Hedda Gabler," "The Elephant Man," and "The Constant Wife."

Denis O'Hare received the Tony Award for Best Performance by a Featured Actor for his performance in "Take Me Out" and the Drama Desk Award for Outstanding Featured Actor in a Musical for his performance in "Sweet Charity." He has appeared in such films as "Milk" (Critics' Choice Award for Best Acting Ensemble), "Michael Clayton," "21 Grams," "Garden State," and "Half Nelson." He recently received rave reviews in "An Illiad" at Boston's ArtsEmerson. O'Hare is a member of the cast of HBO's "True Blood" appearing as the ominous Russell Edgington, appeared in the first season of "American Horror Story" and has appeared in the recurring role of Judge Charles Abernathy on television's "The Good Wife."
Amy Ryan was named Best Supporting Actress by the New York, Los Angeles, Boston, San Francisco, and Washington, D.C. film critics circles, and nominated for an Academy Award for her performance in the film "Gone Baby Gone." Her other film credits include "You Can Count on Me," "Capote," "Before the Devil Knows You're Dead," "Keane," "Changeling," "Green Zone," "Jack Goes Boating," "Win Win," and most recently, "Breathe In." Her theatre work includes numerous Broadway and Off Broadway productions, with Tony Award nominations for both "Uncle Vanya" and "A Streetcar Named Desire." On television, her most recent recurring roles are on "In Treatment," The Wire," and "The Office."
For tickets and information, call 617-266-0800 or visit huntingtontheatre.org.