Pulitzer Finalist "Rapture, Blister, Burn"
Opens At The Huntington, May 24
The Huntington Theatre Company will conclude its 31st season with the 2013 Pulitzer Prize for Drama finalist "Rapture, Blister, Burn" by Gina Gionfriddo ("Becky Shaw").
Hailed by The New York Times as "an intensely smart, immensely funny new play," the searing comedy examines the psyches of two women in mid-life as they reconsider the differing choices they've made. The production plays May 24 - June 22 at the Calderwood Pavilion at the Boston Center for the Arts, 527 Tremont Street in Boston's South End.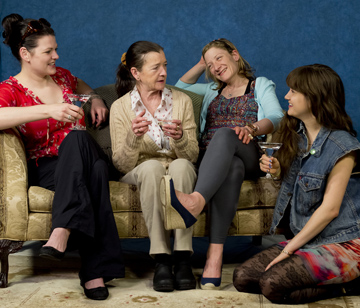 In "Rapture, Blister, Burn," scholar and popular television pundit Catherine returns to her hometown to care for her aging mother, the outspoken Alice. Reuniting with graduate school friend Gwen and Gwen's husband Don as she begins facing life alone, Catherine begins to doubt her decision to put her career before a personal life. Gwen is simultaneously questioning her own decisions. When Catherine begins teaching a course in Alice's home on feminist theory to Gwen and a student from the local college, the three generations of women consider the choices they have and the ones they have made.
"Rapture, Blister, Burn" debuted at Playwrights Horizon in May of 2012 where The New York Daily News called it, "a smart, funny, and lighting-paced look at feminism."
Huntington Artistic Director Peter DuBois ("Sons of the Prophet") reunites with Gionfriddo to direct a cast featuring: Kate Shindle as academic rock-star Catherine Croll; Annie McNamara as her friend Gwen; Boston favorites Timothy John Smith ("Candide") and Nancy E. Carroll ("Good People," "Luck of the Irish"); plus Huntington newcomer Shannon Esper.
Now in his fifth season as Artistic Director, DuBois added, "Gina Gionfriddo crafts plays of ideas in such a way that you feel incredibly happy to be in the theatre and engaging with them. This sharp, smart comedy, set in a small New England college town will connect deeply with our audiences here in Boston. What the play has to say about marriage, feminism, and parenthood -- from the 20-something, 40-something and 70-something perspective -- is savagely funny and deeply human."
Ms. Gionfriddo's other plays include "After Ashley" (Humana Festival and Off Broadway at the Vineyard Theatre) and "US Drag" (produced Off Broadway by Clubbed Thumb and the stageFARM). She has received an Obie Award, a Guggenheim Fellowship, The Susan Smith Blackburn Prize, an Outer Critics Circle Award, The Helen Merrill Award for Emerging Playwrights, and an American Theatre Critics Association/Steinberg citation. She has also written for the television dramas "Law & Order," "Law & Order: Criminal Intent," "Cold Case," "Borgia," and "House of Cards." She attended the MFA playwriting program at Brown University where she studied with Paula Vogel and began her long, happy collaboration with Mr. DuBois.
For information and tickets, stop by the box office, call 617-266-0800 or visit www.huntingtontheatre.org.
-- Production Photo: Paul Marotta
-- OnStage Boston