Guerilla Opera Presents
"Giver of Light"
World Premiere Based on the Life of Poet Rumi
Guerilla Opera will present the World Premiere of "Giver of Light," a new opera based on the life of the 13th-century poet, Rumi. Music and libretto are by composer Adam Roberts with electronic music by Anil Çamci and stage direction by Andrew Eggert. The production runs May 23 - 31 at The Zack Box Theater at The Boston Conservatory, 8 The Fenway in Boston. Performances are one hour long and sung in English.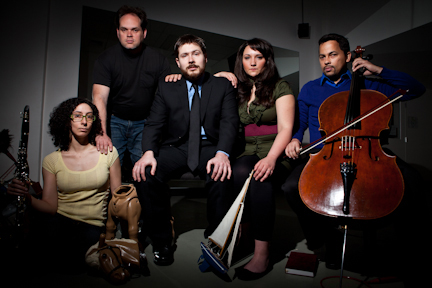 "Giver of Light" is a drama inspired by the real life events of the 13th-century Sufi mystic poet, Rumi, whose life was forever changed after an encounter with the wandering mystic, the Shams of Tabriz. When Shams disappeared, Rumi spiraled into a deep sorrow, giving birth to much of the poetry we know today. Roberts' reimagination of this story in the present-day American Midwest breaks down and explores our various assumptions about what love is, who it can be between and how intimately linked it is to sexuality.
The opera follows John, a successful and socially conscious family man who seemingly has it all, but is troubled by a nagging emptiness. When John encounters a mystic -- who is also his son's school bus driver -- his world is turned upside down and he pursues a friendship. But soon enough, John's wife grows suspicious of his relationship and sets off a series of events that question the mystic's integrity and forces John to make a decision that could forever change his life.
Composer Adam Roberts will attend audience talk back sessions immediately following each Friday night performance.
This program is made possible through the generosity of Timothy & Jane Gillette, The Aaron Copland Fund for Music, The Ellis L Phillips Foundation, The Amphion Foundation and The Boston Conservatory Ensemble-in-Residence program.
"Giver of Light" is the eighth World Premiere opera commissioned by Guerilla Opera since it was founded in May 2007. The 2013-2014 Season will feature workshops and the World Premiere of "Daedalus Barricades" by composer Ken Ueno and librettist by Lara Pellegrinelli.

For tickets, call 617-912-9222 or visit www.bostonconservatory.edu/tickets.
Photo: Amy Advocat, clarinet; Brian Church, baritone (Darren); Jonas Burdis, tenor (John); Aliana de la Guardia, soprano (Elena); Javier Caballero, cello. Credit: Stephanie J. Patalano Photography.