A Review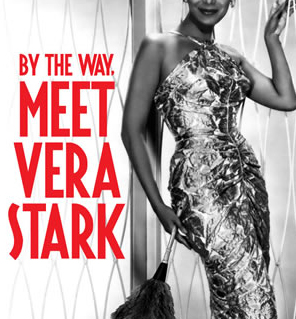 Bound To A Painful Past
By R. J. Donovan
Hollywood in the 30's was a time of glamour and dreams. One of those dreams involved Vera Stark, sometime actress / sometime maid. She could see herself making it big in pictures, if only she could get her foot in the door. However, as a woman of color in 1930, her roles were mostly subservient -- on and off screen.
In "By The Way, Vera Stark" by Pulitzer Prize winning playwright Lynn Nottage, Lyric Stage Company takes a look at the tangles of racial stereotypes in the movies.
The first act finds us in 1930. Gloria Mitchell, America's sweetheart, is frantically trying to learn her lines for a screen-test. Little does America know that their virginal blonde, sweetie pie swears and drinks and often hasn't got a clue what she's doing.
Gloria's after the starring role in "The Belle of New Orleans," playing a Scarlett O'Hara-ish octoroon who dies by the film's final flicker. As she tries to prepare, she spirals out of control into a vain, desperate, dimwitted diva. Her maid Vera (Kami Rushell Smith) is her strength, and their relationship is complicated.
While Vera is helping Gloria run lines, she's also hoping her employer will use her professional pull to her get an audition for the film's supporting but pivotal role of what else? -- Tilly, maid to the leading character.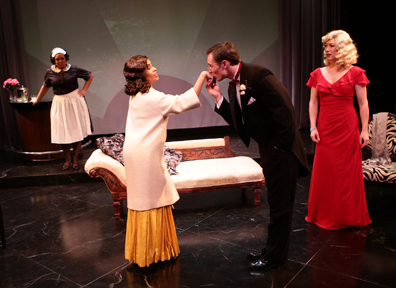 Directed by Summer L. Williams, "Vera Stark's" first act is a blend of parody, satire and broad humor as the often-delusional Gloria squirms over her career and fretfully hosts a cocktail party (at left) for both the film's director and the head of the studio.
Maximillian Von Oster, the film's Russian (German? Eastern European?) director, wants his story to be as authentic as possible to the black experience in the south. Studio owner Mr. Slasvick, practically apoplectic that this sort of motion picture can never play New York, refuses to produce it. Through it all, Gloria is such an insecure mess that she feels threatened by everything up to and including the color of the azaleas.
Meanwhile, Vera's two roommates, also African-American, have learned what it takes to play the game in the age of prejudice. Lottie (Lyndsay Allyn Cox) is a former vaudeville performer who wants to be up on the silver screen herself, even if she has to hum spirituals, while Anna Mae (Kris Sidberry) takes it in the opposite direction and pretends to be Brazilian to get ahead.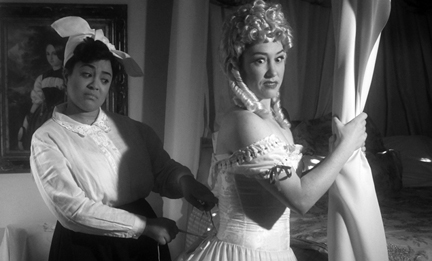 Act Two assumes a different tone (and occasionally drags), jumping ahead seventy years as a film symposium -- "Rediscovering Vera Stark" -- dissects the legacy of Vera's work and the effect her life had on the cultural climate. It begins (at left) with a film clip of the climax of "The Belle of New Orleans." (Film and media designer Johnathan Carr filmed the piece at The Charles Street Inn with an authenticity for the style and tone of pictures of the period).
We learn Vera not only got the part in "The Belle of New Orleans," but that she also had an actual film career and led the way for others of color to follow her onto the screen. Sadly, true stardom eluded her, and she wound up in so-so films. She ended her career playing a cheesy "Folies Bergere" gig in Las Vegas. Gloria, meanwhile, thrived until marrying a rich, symphony conductor and moving to London.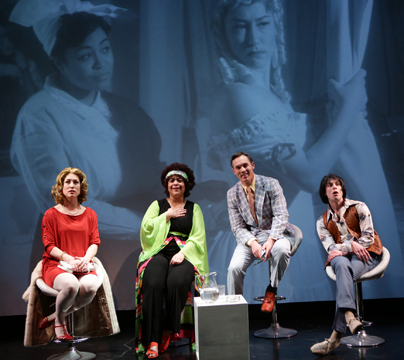 The three diverse film buffs debate Vera's life like she's a frog under a microscope. They glean support for their academic opinions via a rare television talk show interview from 1973, which springs to life in front of us (at left).
Was Vera's career satisfying? What of her unhappy personal life? How did she meet her end -- a suicide, waiting tables, or as a babbling homeless woman who'd willingly share her story with anyone kind enough to listen? The questions, painfully over analyzed by the participants, are never really answered. However, all agree that Vera never got her due.
For all of this to work, the role of the headstrong Vera has to be cast with a very special talent, and Kami Rushell Smith succeeds nicely. She's likeable and feisty and far smarter than those who wield the real power.
As Gloria, Hannah Husband is a frenetic mass of raw nerves, topped with a blonde wig that's seen better days. The juxtaposition of how she appears on screen is quite interesting to see.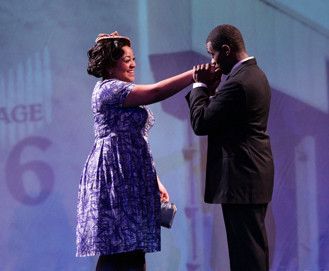 Delivering a nice turn is Terrell Donnell Sledge (at left). In the first act, he's Leroy, Von Oster's smooth talking Man Friday, who meets Vera outside the studio during Gloria's screen-test. Flirting with Vera, he's charm personified. In the second act, he moderates the film discussion. Interestingly, he also introduces a film excerpt of Leroy, effectively representing two characters simultaneously.
After playing the pseudo-Brazilian spitfire in the first act, Kris Sidberry returns during the film discussion as militant, lesbian journalist Afua Assata Ejobo, brimming with anger about seemingly everything.
Lyndsay Allyn Cox is far more sedate as the media professor who's written a book about Vera and sees her in more realistic, human terms.
Kelby T. Akin initially plays the studio mogul with an acid indigestion problem, returning in Act Two as talk show host Brad Donovan in the TV film sequence, all 70's plaid as he swirls on his white leather swivel stool.
Gregory Balla is a master of comical accents, portraying film director Von Oster in Act One and returning in Act Two as British rock star Peter Rhys-Davies, a gushing guest on the talk show. (Rhys-Davies is so delighted to be there that he finds it next to impossible to keep both feet on the floor at the same time.)
Scene changes are cleverly covered by screening archival film footage from the 30's showing glamour shots of Hollywood homes and sweeping aerial views of Los Angeles and the film studios. It very effectively sets time and place, plus it was fun to see cars vying for space on the LA boulevards without paying much attention to lane restrictions.
With a surprise sub-plot twist in its final moments, "Vera Stark" offers a talented ensemble in an intriguing production that employs some interesting staging.
"By The Way, Meet Vera Stark," at Lyric Stage Company of Boston through April 27. For information, call 617-585-5678.
-- Production Photos: Mark S. Howard
-- Black & White Photo: Johnathan Carr
-- OnStage Boston