Stefanie Powers
Brings Bankhead To Boston
In "Looped"
April 30 - May 5 At The Cutler Majestic
Emmy award nominee Stefanie Powers is playing the role of legendary actress Tallulah Bankhead on the national tour of "Looped," coming to Boston from April 30 –May 5 at The Emerson Cutler Majestic Theatre. Matthew Lombardo's madcap comedy will be directed by Rob Ruggiero, who directed the original Broadway production.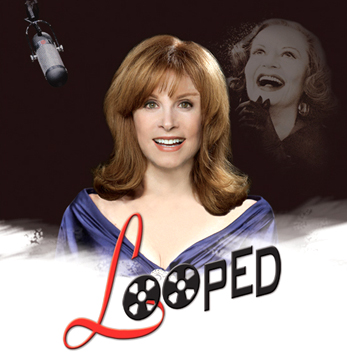 Powers stepped in to take over the role of Bankhead from Valerie Harper who earned a Tony nomination for originating the role on Broadway. Harper was unable to participate in the tour after being diagnosed with brain cancer earlier this year.
Powers is no stranger to Tallulah Bankhead, having co-starred with her in the 1965 motion picture "Die, Die, My Darling." It was during post-production of the film that Bankhead had trouble re-recording a line of dialogue. This is the incident upon which the play "Looped" is based.
Powers is best known for starring in the television series "Hart to Hart" with Robert Wagner and received two Emmy Award and five Golden Globe nominations for Best Actress.
"Looped" had its world premiere at The Pasadena Playhouse in 2008 where it became one of the highest grossing plays in that theater's history. At the Cuillo Center for Performing Arts in West Palm Beach, "Looped" again broke all box office records and later had another successful run at Arena Stage in Washington, DC before moving to Broadway's Lyceum Theatre in 2010.
Based on a true story, "Looped" takes place in the summer of 1965, when an inebriated Tallulah Bankhead stumbled into a sound studio to re-record (or "loop") one line of dialogue for her last movie, "Die, Die, My Darling." Given her intoxicated state and her inability to loop the line perfectly, what ensues is a hilarious showdown between an uptight, conservative sound editor, Danny Miller (played by Brian Hutchison), and the outrageous legend.
Boston audiences should be very familiar with Matthew Lombardo's work: his play "Tea at Five," starring Kate Mulgrew, played The Shubert Theatre; last season's "High," starring Kathleen Turner (also directed by Ruggiero) also played The Cutler Majestic.
Of the national tour, The Miami Herald raved, "Stefanie Powers gives a bravura performance! . . . They don't give Tonys to touring shows, but if they did, Powers might well get a nomination of her own!" The Sun-Sentinal lauded, "A bawdy, often profane tour-de-force that Powers winds up and knocks out of the park! . . . Powers is terrific and teeters on the edge of fabulously funny and oh-so-sad, which is where all great comedy lives!"
Stefanie Powers began her career at age 15, dancing for famed Broadway choreographer, Jerome Robbins. She was subsequently put under contract to Columbia Pictures in the final years of the Hollywood star system and worked with such screen legends such as John Wayne, Maureen O'Hara, Lana Turner, Ava Gardner, Roger Moore, Donald Sutherland, Bing Crosby, Glenn Ford, Lee Remick, James Caan, and Sammy Davis.
Her first television series, "The Girl from U.N.C.L.E.," marked a milestone in U.S. television's history as the first hour long series featuring a female in the leading role.
Throughout her career she has never neglected her theatrical roots, appearing in productions of; "How The Other Half Loves," "Under the Yum Yum Tree," "Sabrina Faire," "View from the Bridge," "Oliver," "Annie Get Your Gun," the West End debut of "Matador," off-Broadway in "The Vagina Monologues," and back to the West End with Robert Wagner in "Love Letters," which they also toured across the United States.
She appeared in the UK in the West End production of "The King and I," which also toured the United States for ten months. As a result of the successful remounting of the musical "Sunset Boulevard" at the Ogunquit Playhouse, a U.S. revival is being planned. She returned to the UK in 2012 to co-star opposite Richard Johnson of Royal Shakespeare Company fame, in the play, "On Golden Pond."
As much a part of her life as her career is her devotion to animal preservation and protection, which at times becomes more of a vocation than an avocation. She is founder and president of the William Holden Wildlife Foundation, established in 1982 to continue and to further her long-time partner's conservation work in East Africa after his death.
For tickets and information, stop by the box office, visit 617-824-8000 or visit www.aestages.org.