---

American Classics Celebrates
Lyricist Sammy Cahn
In honor of the 100th birthday of lyricist Sammy Cahn (below), American Classics, Boston's leading keepers of the Great American Songbook, will present two performances of "It's Magic"-- celebrating the music of Cahn --on Friday, April 5, at 7:30 p.m. at the Follen Community Church, 755 Massachusetts Avenue, Lexington and on Sunday, April 7, at 3:00 p.m. at the Pickman Concert Hall of the Longy School of Music, 27 Garden Street in Cambridge. Sunday's performance will be recorded for release on CD.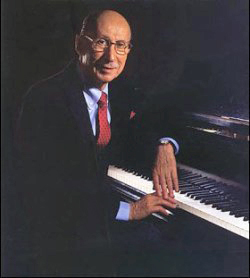 Featured performers include Valerie Anastasio, Leigh Barrett, Eric Bronner, Bradford Conner, JoAnne Dickinson, Peter Miller, Davron Monroe, Cynthia Mork, Joei Marshall Perry, Benjamin Sears, and Michelle Vachon. Boston radio personality Ron Della Chiesa will serve as Master of Ceremonies.
The program will feature Cahn's four Academy Award winning songs, "Three Coins in the Fountain" (music by Jule Styne, from the film of the same name, 1954), "All The Way" (music by Jimmy Van Heusen, from "The Joker Is Wild," 1957), "High Hopes" (music by Van Heusen, from "A Hole in the Head," 1959), and "Call Me Irresponsible" (music by Van Heusen, from "Papa's Delicate Condition," 1963). The first three were introduced by the singer most closely associated with Cahn songs, Frank Sinatra.
Other Cahn hits include "Bei Mir Bist Du Schön" (introduced by The Andrews Sisters, here given a new arrangement by Dean Groves), "It's Magic" (for Doris Day in "Romance on the High Seas"), "The Second Star to the Right" (music by Sammy Fain, from the animated feature "Peter Pan"), "STAR! " (music by Van Heusen, from the film of the same name), "It's Been a Long, Long Time" (music by Jule Styne), and "Love and Marriage" (music by Jimmy Van Heusen, from the television production of "Our Town").
Rounding out the song list is a medley of Cahn's Christmas/Winter songs, "The Christmas Waltz" (Styne), "Christmas Blues" (David Holt), and "Let It Snow! Let It Snow! Let It Snow!" (Styne). Two Cahn presidential campaign songs will also make an appearance.
Sammy Cahn is one of America's most prolific American songwriters. Early in his career he collaborated regularly with Jule Styne ("Guess I'll Hang My Tears Out to Dry;" "It's Been a Long, Long Time;" "Saturday Night is the Loneliest Night of the Week"), though in his later years he worked most often with Jimmy Van Heusen, usually on songs for Sinatra. He was nominated twenty-six times for the Academy Award for Best Song. In addition to his four Oscar wins and he also received five Golden Globe awards and one Emmy.
His output was largely for film, in his later years usually just the title song, but he also wrote five Broadway scores: "Glad To See You" (Jule Styne), "High Button Shoes" (Jule Styne), "Skyscraper" (Jimmy Van Heusen), "Walking Happy" (Jimmy Van Heusen), and "Look to the Lilies" (Jule Styne).
American Classics is the Boston area's only organization devoted solely to the performance of American music, giving voice to forgotten gems and newly discovered musical treasures in concerts of vocal and instrumental music.
For tickets to "It's Magic," call 617-254-1125 or visit www.amclass.org.