---

Lucie Arnaz Shares An Afternoon
At Reagle Music Theatre
Sunday, April 21
Talented triple threat of stage and screen, Lucie Arnaz brings her critically acclaimed cabaret "An Afternoon with Lucie Arnaz" to Reagle Music Theatre of Greater Boston on Sunday, April 21, at 3 p.m.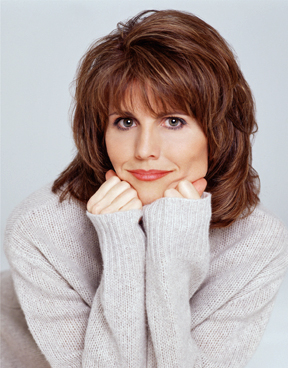 In an exclusive Boston area engagement, the famed daughter of Lucille Ball and Desi Arnaz sings, shares stories, and demonstrates the musical savvy and comic pizzazz that have established her as a star in her own right for the past 45 years.
In "An Afternoon with Lucie Arnaz," the star takes her audience on an eclectic ride through a varied songbook, from jazz standards to Broadway show tunes. She performs inspired medleys with fresh and exciting arrangements and includes a set of hot Latin numbers in homage to her Cuban-born father. Her show-stopping rendition of "Hey, Look Me Over" by Cy Coleman and Carolyn Leigh recalls her mother's one Broadway hit, "Wildcat."
Robert Eagle, producing artistic director of Reagle Music Theatre commented, "We are thrilled to continue our 45th season concert series with another true legend. Lucie Arnaz started in show business at the age of 10, working with and learning from the greatest comedienne of all time, her mother, Lucille Ball. But even before she stepped in front of the camera professionally, she literally grew up in the spotlight, absorbing invaluable lessons from two of the world's most famous television pioneers. From her mother's incomparable wit and her father's musical genius she has developed her own unique style. Lucie Arnaz is a consummate entertainer. Her show is a knockout."
Lucie Arnaz has had an extremely diversified career spanning more than 45 years in show business. She has starred: on the Broadway stage in "They're Playing Our Song," "Lost in Yonkers," "Dirty Rotten Scoundrels" and "Grace and Glorie;" in the London premiere of "The Witches Of Eastwick;" in the Coconut Grove Playhouse premieres of "Once Removed" and "A Picasso;" in national tours of "Seesaw," "Whose Life Is It Anyway?," "Social Security" and "My One And Only;" and in regional productions of "Wonderful Town," "Master Class," "Cabaret," "The Guardsman," "Annie Get Your Gun," "I Do! I Do!," "Educating Rita," "Vanities" and "Mack And Mabel," to name just a few.
On television, Lucie has starred in "The Lucie Arnaz Show," "Sons And Daughters," "The Black Dahlia," "The Mating Season," "Who Gets The Friends?," "Washington Mistress," "Death Scream" and six seasons of "Here's Lucy."
On the big screen she appeared in "The Jazz Singer" (with Neil Diamond and Sir Laurence Oliver) "Down To You," "Second Thoughts," "Billy Jack Goes To Washington," "The Pack," and "Wild Seven." She has also lent her voice to the new animated fantasy about the NY Yankees, "Henry and Me."
In addition, Arnaz performed the opening number on the Academy Awards in 1981 and has appeared at The White House several times. She was Executive Producer of the "I Love Lucy 50th Anniversary Special" and the Emmy Award-winning "Lucy & Desi: A Home Movie." She recorded her first album, "Just in Time," for Concord Jazz, while her newest CD, "Latin Roots," is a celebration of her Cuban heritage. Arnaz has been performing in concert around the world for more than 20 years.
With her brother, Desi, she manages Desilu, too, LLC. With her husband, actor Laurence Luckinbill, she manages five grown children.
For information and tickets, stop by the Reagle box office at Robinson Theatre, 617 Lexington Street in Waltham, call 781-891-5600 or visit www.reaglemusictheatre.org.