A Review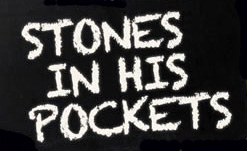 Irish Aspirations
By R. J. Donovan
Lyric Stage Company is offering a bright delight at the moment with its comical and ultimately very touching production of "Stones In His Pockets" by Irish actress-turned-playwright Marie Jones.
The idea is deceptively simple. A Hollywood movie crew is shooting "The Quiet Valley" in a rural Irish village in Kerry, employing loads of locals as film extras. What's not so simple is that the story is told, and more than a dozen characters are portrayed, by two lone actors -- Phil Tayler and Daniel Berger-Jones (below).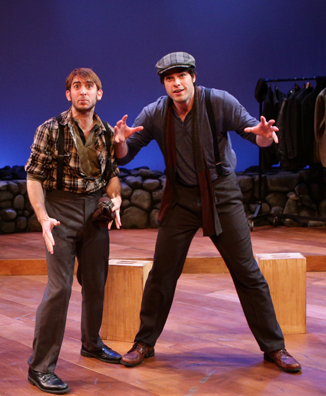 Both Tayler and Berger-Jones do a brilliant job, creating a whirlwind of people through vocal differences, facial expression and physical body quirks. There are no added costumes and no set pieces. It's all achieved through the superb dexterity of the actors -- and beautifully so -- on a relatively bare stage. (Set designer Matthew Whiton cleverly, and very subtley, trims the edge of the proscenium arch with a succession of hats and caps.)
Interestingly, "Stones in His Pockets" first saw the footlights at the Lyric Theatre in Belfast. It was later presented at the Edinburgh Festival before a run in London's West End where it picked up the Olivier Award as Best New Comedy. A Broadway production followed, captured three Tony nominations.
The two main blokes at the center of it all are Charlie Conlon and Jake Quinn. They anchor the story. The endlessly optimistic Charlie has failed at a host of jobs, the last being owner of a video store which was overwhelmed by the local Blockbuster. Jake, jaded and discontented, moved to The States to try and find a life for himself. When that didn't pan out, he returned home to live with his "Mum."
At first, everyone in town is head over heels with the Hollywood folk. But over the course of the story, the locals ultimately come to realize the LA crowd is a fairly shallow lot.
Just about everyone in town has been employed for the big crowd scenes, except Sean, the unfortunate drug dependent teen who's the only one who truly longs to be a part of it all. When he gets a little too close to starlet Caroline Giovanni at the local pub, he's humiliated and tossed out on his "arse." The crushing blow of shattered dreams is too much for him and he commits suicide by walking into the wate with his pockets filled with stones.
After a very funny first act, the stark revelation of his death ends Act One with an emotional wallop that leaves the audience silent.
Despite this sobering fact, trust that "Stones In His Pockets" is very, very funny. Marie Jones is adept at capturing the cheeky Irish wit that often accompanies tragedy. (When it's determined there will be no alcohol at Sean's funeral, lest the locals return drunk to the movie set, one character is aghast that this will be the first funeral in Ireland's history without drink.)
Through it all, Charlie has a film script of his own that he longs to offer to the right party. He never gets to present it, and it turns out to lack any degree of depth. However, the experience the guys goes through shows them that their script should be the true story of Sean's suicide and how the filming changed the town. Rather than a glittering tale of Hollywood descending on a small village in hopes of capturing a overly-romanticized view of Irish life, it will be a true story of the locals. In their version, the extras become the stars, and the stars become the extras.
When the boys corner the film's director in the commissary tent to explain their idea, they're dismissed with a toss of the hand. He tells them they need to add a happy ending to their story to make it work.
No matter, they are charged with enthusiasm and believe they'll somehow get their own story told. And the true tale will be called, "Stones In His Pockets" -- which is exactly what we've been watching all night.
As noted above, both Tayler and Berger-Jones do a nimble job of morphing into a roster of characters who vary in age, sex and dialect. They create such unique personalities that there's never any confusion as to who you're watching.
In addition to playing Jake, Tayler is Sean, fiery and hurt; Aisling, the aggressive, preening assistant director (who carries a comical whiff of Alan Cummings); and Mickey, a local cripple who's main claim to fame is that he's the lasting surviving extra from the local shoot of "The Quiet Man" in 1952.
In addition to Charlie, Berger-Jones portrays smarmy English film director Clem; the impatient and always bellowing assistant director Simon; Sean's grieving Da; Jock, the burley, bullying, body guard; plus the glamorous Caroline Giovanni.
In each case, both guys create such vivid portraits that you quickly begin to "see" the characters as they pop in and out of the story. In an interaction between Jake and Mickey (both played by Tayler), Tayler has given your imagination everything it needs to fill in the blanks and envision Mickey actually standing there as Jake speaks to him.
Director Courtney O'Connor keeps the brisk production taut and focused. It's sharp and funny when it should be, and it's heartbreaking when it needs to be. (Kudos as well to Dialect Coach Nina Zendejas.)
Throughout, the two actors never miss a beat. Plus, they make it all seem quite effortless -- which is perhaps the best compliment of all.
"Stones In His Pockets" is at Lyric Stage Company of Boston through March 16. For information, call 617-585-5678.
-- Production Photo: Mark S. Howard
-- OnStage Boston