ArtsEmerson Presents
The Vesturport - Lyric Hammersmith Production of
Franz Kafka's Novella
"Metamorphosis"
February 27 – March 3
Next up from ArtsEmerson: The World On Stage is the Vesturport Theatre (Iceland) and Lyric Hammersmith Theatre (London) production of "Metamorphosis."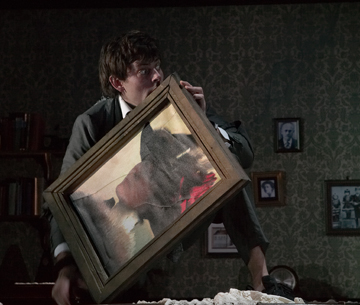 Based on Franz Kafka's novella, this terrifying but bizarrely comic story comes to the stage in an explosive new version by Artistic Director David Farr (Lyric Hammersmith) and actor/director Gisli Örn Gardarsson (Vesturport). Performances will take place February 27 – March 3 at The Paramount Center Mainstage, located at 559 Washington Street in Boston's Theatre District.
The ordinary, unremarkable life of the Samsa family is turned upside down when their son, Gregor, the sole provider for the family, emerges one morning to find himself inexplicably transformed into a gigantic insect. His family's feelings of revulsion turn to resentment with horrifying results.
Is it domestic tragedy or a metaphor for totalitarian brutality? Either way, "Metamorphosis" is a disturbing story of clashes -- fantastic and horrific, surprisingly funny and very sad. It's about human nature, relationships between people, and reactions to extreme circumstances.
The production's stunning design keeps the insect permanently visible in a topsy-turvy upstairs room, contorting to the sounds of his family's betrayal and swinging from the rafters, as in a veritable gymnasium. If offers daring aerial action as the recently transformed Gregor lithely negotiates the gravity-defying split level set.
With original music composed by world-renowned musician and lyricist Nick Cave and long-time collaborator Warren Ellis from The Bad Seeds, the music emphasizes Kafka's dream-like vision and turns it into an electrifying reality.
The Times of London stated, "It's grimly disturbing, but illuminated by such brilliant theatricality that it's impossible to tear your eyes away. Potent, startling, visceral and thoughtful." Australian Stage added, "Thanks to this team, it is very possibly, the finest, highest expression of theatre to which I´ve yet born witness."
Iceland-based Vesturport Theatre (founded by 13 artists in 2001), rose to international prominence when their "Romeo & Juliet" became a hit first at the Young Vic and later the West End in London. In April 2011, Vesturport was awarded the Europe Prize New Theatrical Realities XII in St. Petersburg where "Faust" and "Metamorphosis" were performed in connection with the award ceremony.
London's Lyric Hammersmith, built in 1895, takes pride in its original, groundbreaking productions. The theater offers two main performance areas: the Main House, a 550-seat 19th-century auditorium maintaining the original design which hosts its main productions; and the 120-seat Studio, which houses smaller productions by up-and-coming companies.
Under the leadership of Rob Orchard, ArtsEmerson has brought to Boston audiences a new level of cultural choice, offering professional American and international work to its four distinct venues. In addition to its acclaimed theatre works, ArtsEmerson presents adventurous, independent and repertory films on weekends, and offers a diverse music program including cutting edge indie rock and world music.
For tickets and information, stop by the box office, call 617-824-8400 or visit www.artsemerson.org.
-- Photo Credit: Eddi