Boston Children's Theatre
Re-Mounts Anti-Bullying Play
"Reflections Of A Rock Lobster"
Boston Children's Theatre has announced the return of its critically acclaimed play "Reflections Of A Rock Lobster." Based on Aaron Fricke's autobiography and adapted by BCT Executive Artistic Director Burgess Clark for the stage, "Reflections" is the true story of a gay teenager and his fight to defend his life and preserve his civil rights in the wake of bullying, prejudice and intolerance. Performances will take place in the Wimberly Theatre at the Boston Center for the Arts, 527 Tremont Street in Boston from March 9 - 17.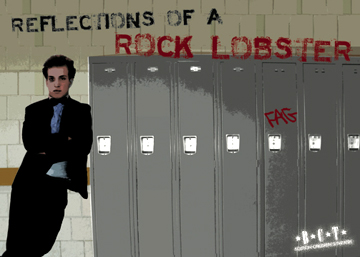 Bullied, ridiculed, misunderstood and gay. This was the life of Cumberland, Rhode Island, high school student Aaron Fricke, a teenager whose unprecedented civil actions forever changed the lives of gay and lesbian students.
The year is 1980 and as an openly gay high school student, Aaron is subjected daily to violence and rejection -- leaving him feeling dejected and with thoughts of suicide. Rising from his despair, Aaron strikes back by suing his Rhode Island high school for the right to escort his boyfriend to the prom. By standing up for his personal and civil rights and for refusing to apologize for who he is, Aaron not only wins in court, but he also wins in the hearts and minds of his peers and his community. His strength and ultimate victory help pave the way for legions of gay and lesbian students.
In March of 2012, BCT became the first children's theater in the country to address the issues of bullying and growing up gay in a mainstage production. According to Clark, who is also directing the production, "We knew it was a risk to produce a new work that focused on these sensitive themes, but it was a risk we were willing to take because of the importance of the message. The play has had a tremendous impact on our audiences and the community. The ground swell of support was so strong that we felt a responsibility to produce the show again for an even broader audience."
Locally, BCT was named Best of Boston by Boston Magazine for producing a work that "defines what a children's theater company ought to be." Boston Mayor Thomas M. Menino also recognized the importance of bringing this production to the public. "I applaud Boston Children's Theatre for producing a play that addresses issues that have such a profound impact on our community," said Menino. "Bullying, prejudice and anti-gay sentiments cannot be tolerated in our schools or in our society. 'Reflections of a Rock Lobster' teaches us all the importance of acceptance and tolerance in an entertaining, creative and powerful way. I congratulate their efforts and I encourage everyone to experience this ground-breaking production."
"Reflections Of A Rock Lobster" will be performed by students between the ages of 14 and 19 alongside several adult actors. The student cast includes Arlington resident Hannah Doyon; Boston resident Elias Duncan; Braintree resident Rachel Padell; Brookline residents Emma Baxendale and Felix Teich; Cambridge residents Ellie Brelis, Lily Keats and Lily Steven; Dover resident Paul McCallion; Durham, NH, resident Olivia Clark; Jamaica Plain resident Shayna Bredbeck; Medford resident Lauren Tomaszczuk; Milton residents Garrett Sager and Alexandra Upton; Newton resident Julia Fein; Quincy residents Ellis Hampton, Nick McNeil, Jeremy Mele and Niamh O'Connor; Rockport resident Tom Rash; Roslindale resident Joy Kozu; Sandwich resident Megan McMahon; Sherborn resident Ainsleigh Caldicott; West Newbury resident Allegra Larson; Weston resident Larson Miller; and Winchester resident Caroline Ver Planck.
The adult cast includes Richard Snee, Doug Bowen-Flynn, June Kfoury, Nate Punches and Arthur Waldstein.
High School groups can reserve tickets for weekday performances by contacting BCT at 617-424-6634, x222. "Reflections Of A Rock Lobster" contains mature subject matter and content -- parental discretion is advised.
For tickets and information, stop by the box office, call 617-933-8600 or visit www.bostonchildrenstheatre.org.