Celtic Woman
Comes To The Wang
March 16
The enchanting Irish musical ensemble Celtic Woman is returning to America for an expansive four-month concert tour, beginning on February 21 at The Hanover Theatre in Worcester and later playing two shows at The Citi Performing Arts Center Wang Theatre on Saturday, March 16 -- just in time for St. Patrick's Day.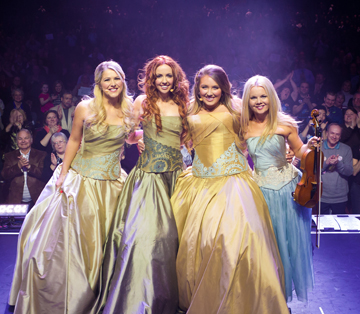 Celtic Woman combines the talents of four gifted Irish women -- vocalists Chloë Agnew, Lisa Lambe and Susan McFadden, and violinist Máiréad Nesbitt -- whose dazzling performances combine the sounds and sensibility of Irish traditional music with memorable original compositions and contemporary pop standards.
Having sold nearly 3 million concert tickets worldwide, Celtic Woman has won a dedicated and loyal audience in America, where their elaborately staged, visually stunning concert tours consistently draw sellout crowds.
Singing songs of love, loss, hope and inspiration, Celtic Woman celebrates the emotional resonance of Ireland's centuries-old musical and cultural heritage while taking advantage of the limitless options of state-of-the-art production. The result is a breathtaking musical and theatrical experience to be enjoyed by multiple generations of concert goers.
Since its formation in 2004, Celtic Woman has emerged as both a spectacular commercial success and a global cultural phenomenon. The group's uplifting mix of timeless tradition and contemporary craft has transcended national and cultural borders to touch the hearts of a devoted international fan base, who've embraced Celtic Woman's hugely successful Public Television specials and made their CDs and DVDs into multi-platinum best-sellers.
For tickets and information, stop by the box office at 270 Tremont Street, call 866-348-9738 or visit www.citicenter.org.