---

Whistler in the Dark Presents
Caryl Churchill's "Vinegar Tom"
Fresh from their critically acclaimed production of "Tales from Ovid," presented in collaboration with ArtsEmerson: The World On Stage, Whistler in the Dark next dives into the world of 17th century England with Caryl Churchill's "Vinegar Tom." The production runs January 11 – February 2 at The Calderwood Pavilion at the Boston Center for the Arts, located at 527 Tremont Street in Boston's South End.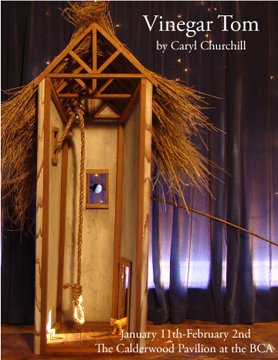 With "Vinegar Tom," Whistler examines what it means to live with our neighbors, how we define each other, what we accomplish in doing so, and how our actions serve to define us. Directed by Mac Young, the company features Melis Aker, David Anderson, Melissa Barker, John Greene , Obehi Janice, Becca A. Lewis, Caroline Price, Jennifer Reddish and Karin Webb.

In the 17th century, as now, those living on the fringes of society often survived through the mercy and forbearance of their neighbors. In a rural village, that fragile balance is disturbed, and the arrival of a renowned witch-finder provides the community with a focus for its frustrations. When witchcraft exists in both the minds of persecutor and persecuted, petty and everyday transgressions become hanging crimes.

Churchill is both playwright and librettist in this 1976 play with music. Director Mac Young is teaming up with local musicians Veronica Barron and Tony Leva to craft the songs that flesh out the production.
In a play that often gets boiled down to feminist politics, Young notes, "This is a play first about being human, and then about being a woman. It is about living with each other on a day-to-day basis and the social punishment and restrictions we inflict on one another. We are examining not why people are good or bad, but what are the situations that cause people to make their decisions."

"Vinegar Tom" will mark the first phase of Whistler's new Pay What You Want ticketing program. While the full launch of the program is scheduled for Whistler's spring productions of "Our Country's Good" and "The Recruiting Officer," audience members for "Vinegar Tom" will be invited to choose from two pricing levels designed to remove price as a barrier to art.
For tickets, call 617-933-8600 or visit www.whistlerinthedark.com