---

Vicki Lawrence Brings "Mama"
To Reagle Music Theatre
February 17
Spring Concert Series Continues
With "A Little Bit of Ireland" and Lucie Arnaz
Emmy Award-winning television star Vicki Lawrence, best known for her scene-stealing comedy on the legendary "Carol Burnett Show" and "Mama's Family," will bring her crowd-pleasing "Vicki Lawrence and Mama: A Two Woman Show" to Reagle Music Theatre of Greater Boston on Sunday, February 17, at 2 p.m. In an exclusive Boston area engagement, Lawrence sings, shares stories, and unleashes the wit and wisdom of the character that made her famous -- the cantankerous Thelma Harper, lovingly known as Mama.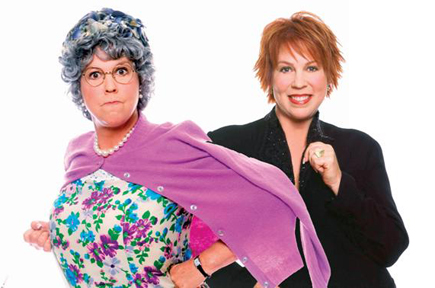 Lawrence kicks off Reagle Music Theatre's spring concert series and 45th consecutive season. The series continues March 15-17 with Reagle's 15th anniversary celebration "A Little Bit of Ireland," performed this year in memory of world-renowned Celtic fiddler Larry Reynolds. On April 21 Reagle welcomes the multitalented actress, entertainer and Broadway luminary Lucie Arnaz in a concert that critics say proves that the daughter of the legendary Lucille Ball and Desi Arnaz is a true star in her own right.

Robert Eagle, producing artistic director of Reagle Music Theatre, commented, "We are thrilled to be starting our 45th season by featuring two stars with such celebrated pedigrees. Both started their careers at a very early age, Vicki as a teenager at the knee of Carol Burnett and Lucie literally growing up in the spotlight learning from true television pioneers. Each has taken the best from the best and they are now megawatt performers themselves."

While still in high school, Vicki Lawrence sang with The Young Americans, appearing with them in a feature film that won an Academy Award for Best Documentary. During her senior year she was chosen to play Carol Burnett's younger sister on "The Carol Burnett Show." Lawrence became a series regular, performing musical numbers and teaming with Burnett, Harvey Korman, Lyle Waggoner and Tim Conway to create some of the most memorable sketch comedy of all time. During the show's 11-year run, Lawrence earned five Emmy Award nominations and won once – for her outrageous portrayal of Mama in the character's debut seventh season.

After "The Carol Burnett Show" ended, Lawrence reprised her role of Thelma Harper in a new television series, "Mama's Family." The show, which co-starred Ken Berry, ran for two years on NBC, then ran for five more years in first-run syndication. Since then Lawrence has hosted the game show "Win, Lose or Draw" and her own television talk show, "Vicki!," for which she earned a Daytime Emmy nomination. Lawrence also played Mamaw Stewart, grandmother to Miley Cyrus' character, in the hit Disney Channel series "Hannah Montana."

Lawrence earned a Gold Record for her #1 hit single, "The Night the Lights Went out in Georgia." The cross-over country and pop song sold more than 2 million copies. Lawrence has also appeared on stage in numerous prominent regional theater productions including "Carousel," "No, No Nanette," "Chapter Two," "Hello, Dolly!," "Nunsense," and "Annie Get Your Gun." Most recently she appeared in "The Vagina Monologues." Her autobiography titled Vicki! The True Life and Adventures of Miss Fireball was published by Simon and Schuster.
Reagle Music Theatre is located at Robinson Theater, 617 Lexington Street in Waltham. For tickets and information, stop by the box office, call 781-891-5600 or visit www.reaglemusictheatre.org.(For groups of 10 or more, call 781-894-2330.)