A Review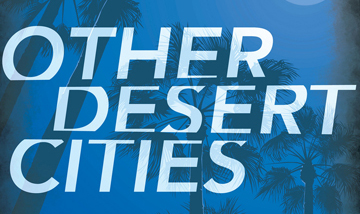 Secret Battles • Battling Secrets
By R. J. Donovan
As Shakespeare posed in "King Lear," "How sharper than a serpent's tooth it is to have a thankless child."
In Jon Robin Baitz's "Other Desert Cities," receiving its New England premiere from SpeakEasy Stage Company, the serpent's tooth is sharpened to razor-like precision when the daughter of a politically connected Hollywood couple writes a memoir that threatens to drag a scandalous family tragedy out into the open.
In this 2012 Pulitzer Prize finalist blending family, politics and show business, Baitz has layered drama, comedy and sharp characterizations to race towards a finale that makes the second half of Act Two so tense, it's almost too much to watch. Additionally, it all takes place on Christmas Eve -- a time that holds potential for family conflict all by itself.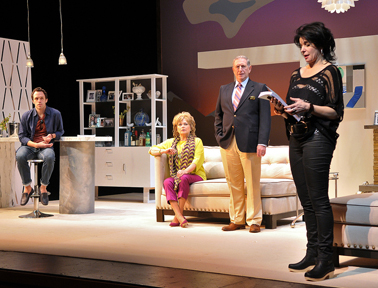 To meet the players -- Lyman and Polly Wyeth were once the toast of the Polo Lounge set. They now reside in Palm Springs, playground of the well-to-do, but otherwise known as a "town full of mummies with tans." Lyman was an actor, Polly a screenwriter. Leading figures in the Republican party, they drop "Ron & Nancy" references as easily as their off-handed racist comments. When Lyman departed the silver screen, he was rewarded politically with an Ambassadorship.
Polly's sister Silda, fresh from rehab, was her longtime screenwriting partner until a rift divided them. With Silda having descended into alcoholism and depression, Polly is now her provider -- at least for the moment.
As Christmas Eve 2004 looms, siblings Brooke and Trip have gathered to celebrate in the bosom of the right-wing hearth -- although Polly refuses to cook a holiday dinner in the desert heat, so they will all troop off to the local Country Club, where one keeps track of who's Jewish and who's not.
Tripp produces reality television in LA (interestingly called "Jury Of Our Peers"). Brooke is an east coast writer living in Sag Harbor with a popular novel in her credits and depression in her more recent past. Her long standing writer's block was broken when the idea of a memoir raised its ugly head. And ugly it is as the book deals with the scandal and suicide surrounding brother Henry, a war-protesting revolutionary who was tied to the bombing of a military recruitment center that resulted in the death of a homeless vet.
Henry is the topic-in-the-mist of which no one speaks. Having never gotten the answers she wanted about her lost sibling, Brooke decides to address the issue herself in a scathing tome that, while freeing her mind, will undoubtedly ruin her family -- as well as her relationship with them. Although she presumes the truth will set her free, it turns out her truth may not in sync with the facts. Secrets were kept in an effort to protect. Now, as old hurts are confronted, fangs are bared in a self righteous volley of political and personal indignation.
The cast is led by Karen MacDonald as Polly and Anne Gottlieb as Brooke. The two characters are more similar than different, which infuriates them both. MacDonald delivers a performance that percolates with power. She's a wife and mother, defiantly demanding unquestionable control of her domain. "Mother Knows Best" was never more true.
Gottlieb is defiant in her desperate quest to grab the upper hand. She's driven by a compulsion to know what really happened. Her parents refuse even to mention Henry's name (going to far as to remove all photos of him from their home), and so Brooke tears open the wound to reveal what lies beneath. Ultimately, Gottlieb's Brooke becomes more passionate in publishing than in learning the truth. Both women are adamant that they're right, which results in brutal, heartbreaking head bangs.
As played by Munson Hicks, Lyman exists more in Polly's wake than his own spotlight. In fact, he's less threatened by Brooke's book itself than by having it published while he's still alive. "After we're gone..." he offers as an alternate choice of ruin.
Christopher M. Smith is wonderful as Trip (. . . and is that a name of the privileged or what). The lovable puppy of the lot, he suppresses his own concerns and life issues as the war rages. Attempting to keep the peace, he's diplomatically siding with both factions without really bearing allegiance to either.
In the comic relief role, Nancy Carroll is all piss and vinegar as Silda, zapping off viperous zingers with dead pan skill. Although Silda takes delight in targeting those in her path, it turns out she has an indiscretion of her own to hide. And when one particularly damaging moment in her past is exposed, Carroll's silent stance speaks volumes.
Director Scott Edmiston keeps the tension crackling as he slowly peels back the layers that see the power shift from character to character in a penetrating tennis match that can never end in a satisfying victory.
In the end, a nicely crafted play deftly presented by a crackjack cast.
"Other Desert Cities" is in the Wimberly Theatre at The Calderwood Pavilion through February 9. For information, call 617-933-8600.
-- Production Photos: Craig Bailey/Perspective Photo
-- OnStage Boston