Cathy Rigby Returns To Boston
In "Peter Pan"
The Fairy Dust Flies April 23 - 28 At The Wang
One of the musical theater's most enduring tales will bring the magic back to Boston when The Citi Wang presents the Emmy Award winning production of "Peter Pan," starring Cathy Rigby, from April 23 - 28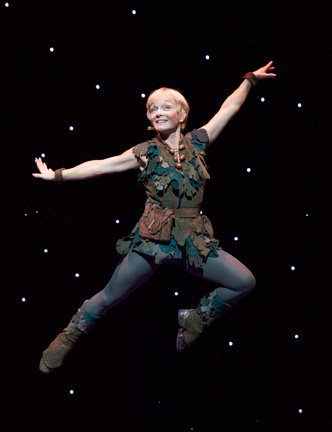 Since 1990, the family-friendly favorite has made four stops on Broadway, garnering four Tony nominations including Best Revival of a Musical and Best Actress in a Musical.
Joining Cathy Rigby is Broadway's award-winning Brent Barrett (below) as Mr. Darling- Captain Hook. Brent has entertained millions of fans around the world from Broadway ("Grand Hotel," "Annie Get Your Gun," "Chicago") to the West End ("Kiss Me Kate"), in concert, film and on television. Boston fans last saw him at Reagle Music Theatre in a concert of love songs costarring his "Kiss Me Kate" leading lady, Rachel York.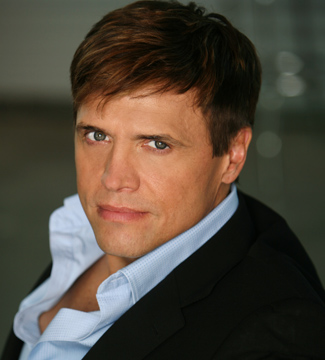 Kim Crosby (the original Cinderella in Stephen Sondhem's "Into the Woods" and Sarah Brown in "Guys and Dolls") returns to play Mrs. Darling.
The tour is directed by Glenn Casale who directed the 1999 Tony Award nominated and Emmy winning production. Mr. Casale has been a resident at the California Musical Theatre for almost 23 seasons where he has directed more than 550 shows.
The flying sequence choreographer, Paul Rubin ("The Fly Guy"), has choreographed some of the theater's most memorable flying sequences from "Peter Pan" to "Wicked." He has flown Cathy in more than 1500 performances and choreographed flying sequences in more than 300 different productions of "Peter Pan" in more than 10 countries.
As Executive Producers of the production, Tom McCoy & Cathy Rigby are in their 19th season as Executive Producers of the McCoy Rigby Entertainment Series at La Mirada Theatre for the Performing Arts. Since the 1994-95 Season, McCoy Rigby has produced more than 75 plays, musicals, concerts, dramas and comedies. In addition to "Peter Pan," MRE has produced a host of Broadway productions and National Tours including "Seussical the Musical" (also starring Cathy Rigby), "Jesus Christ Superstar" starring Carl Anderson, "Happy Days, The Musical," and "Camelot" (first starring Michael York and then Lou Diamond Phillips).
For tickets and information, stop by the box office, call 866-348-9738 or visit www.citicenter.org.