Underground Railway Presents
Katori Hall's Olivier Award-Winning
"The Mountaintop"
Underground Railway Theater will begin the new year with the recent Broadway hit and 2010 Oliver Award Winner for Best New Play, "The Mountaintop" by Katori Hall. Performances will run from January 10 - February 3 at Central Square Theater, 450 Massachusetts Avenue in Cambridge. The production features Maurice Emmanuel Parent and Kami Rushell Smith.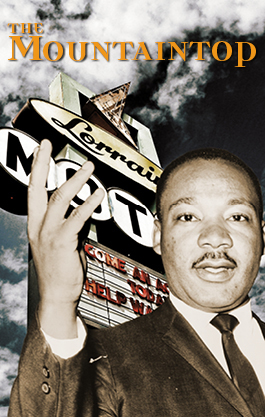 Directed by Associate Artistic Director, Megan Sandberg-Zakian, "The Mountaintop" is presented in celebration of the 150th Anniversary of the Emancipation Proclamation.
It's April 2, 1968. Having just delivered his magnificent oration "I've been to the mountaintop" at Mason Temple in support of a sanitation workers' strike, Reverend Dr. Martin Luther King, Jr. is in Room 306 at the Lorraine Motel in Memphis. A maid comes to his door with coffee. An unlikely relationship is forged that ventures into the political and personal, compelling him to confront his destiny and the fate of the nation on the eve of one of the most critical moments in American History.
As part of URT's production of "The Mountaintop," there will be Central Conversations (pre-show symposia and post-performance discussions) with the theme "Passing the Baton: Celebrating and Carrying Forward the Legacy of Dr. King and the Civil Rights Movement" led by Charles Ogletree and others. The most up-to-date list of events is online at CentralSquareTheater.org.
"The Mountaintop" premiered in London in 2009 to critical acclaim. After a sell-out run at Theatre503, the play transferred to the Trafalgar Studios in the West End, featuring British actors David Harewood and Lorraine Burroughs. Harewood was nominated for Best Actor in the Evening Standard and Whatsonstage Awards and Burroughs for Best Actress in the Olivier Awards.
The Independent wrote that the production at Theatre 503 was "an imaginative portrayal" and showed "a relationship that is breathtaking, hilarious and heart-stopping in its exchanges and in its speedy ability to reveal character and pull the audience into the ring." The Daily Telegraph's review of the production at Trafalgar Studios added, "It is a beautiful and startling piece, beginning naturalistically before shifting gear into something magical, spiritual and touching."
"The Mountaintop" made its Broadway premiere in September of 2011. Samuel L. Jackson made his Broadway debut in the role of Dr. Martin Luther King, Jr. with Angela Bassett as his co-star.
Underground Railway Theater joins Milwaukee Repertory Theatre, The Circuit Playhouse, and Philadelphia Theatre Company, Arena Stage, and the Alley Theatre in presenting "The Mountaintop" during the 2012-2013 Season.
For tickets and information, call 866-811-4111 or visit CentralSquareTheater.org.