"Legally Dead"
At Boston Playwrights' Theatre
February 7 – 23
Boston Playwrights' Theatre completes its MainStage Season with "Legally Dead," a dark comedy from playwright, humorist, singer-songwriter and former BPT Managing Director Dan Hunter. Performances will run February 7 - 23 at Boston Playwrights' Walcott Theatre, located at 949 Commonwealth Avenue in Boston.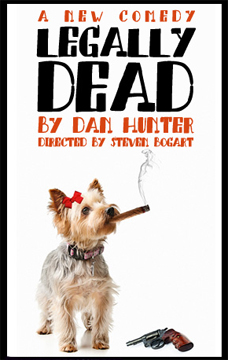 In the play, Dad hasn't been seen for a while -- five years, in fact -- and some of the family wants him dead. Legally, that is. It's Christmas, Tommy's back from prison, Annie's fresh from her divorce, Rebecca's found Jesus, and Mom's off the wagon. But where's the Will? Mom's closet holds the answer to everything, if only dog Walter would stop piddling in it.
Directed by Steven Bogart, the company features Kippy Goldfarb, Adrianne Krstansky, Jen Alison Lewis, and Christopher James Webb.
Dan Hunter's new book of humor, Iowa?. . . It's a State of Mind, was published in 2011 joining his two other books of humor, Let's Keep Des Moines a Private Joke and The Search for Iowa (& We Don't Grow Potatoes). His other plays including "Un Tango en La Noche" (winner of a national Kennedy Center award) and "La Mujer Sin Cara (The Woman Without a Face)." His play "The Monkey King" was a finalist for the 2004 Heideman Award from the Actors Theatre of Louisville while "Red Elm" was produced in December 2005 at Boston Playwrights' Theatre.
A special Talk Back with the playwright will follow the 8 p.m. performance on Saturday, February 9.
The theater will also host a complimentary coffee tasting at 3 p.m. on Saturday, February 16, and Saturday, February, 23, immediately before the 4 p.m. performance. Featuring Blue State Coffee, the tasting will be lead by Blue State Coffee Manager and expert barista Ryan Ludwig. A ticket to the performance is required to participate in the demonstration.
For tickets, call 866-811-4111 or visit www.bostonplaywrights.org.