A Review

Hard Workin' Rock 'n' Roll
By R. J. Donovan
With so many revivals on stage, and a ton of "musical versions" based on already existing material, it's always nice to see an original show. Which brings us to "Memphis," playing at the happily reopened The Colonial Theatre . . . now called The Citi Emerson Colonial Theatre. (With a mouthful like that, they're gonna need a bigger marquee. Or A marquee.)
The high energy musical is the winner of four 2010 Tony Awards including Best Musical, Best Original Score (David Bryan and Joe DiPietro), Best Book (Joe DiPietro), and Best Orchestrations (David Bryan and Daryl Waters).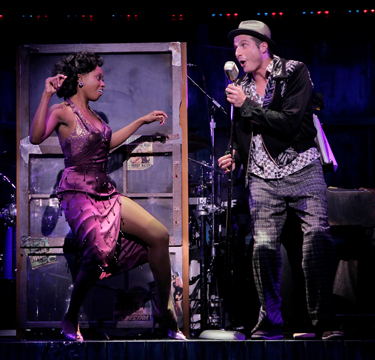 In "Memphis," its 1950's Tennessee and Huey Calhoun (Bryan Fenkart, at left) is a white guy who loves the rhythm and blues that comes out of the underground black jazz clubs. But this is the segregated 50's -- a time and a place where a white guy doesn't belong in a black club.
Still, Huey loves the music. And it also becomes apparent that he loves Felicia (Felicia Boswell, at left), the dazzling young lady who's standing in the spotlight. However, their interracial romance draws anger from both sides of the street. (The raw edge and violence of racism runs throughout the show.)
Huey's endearing personality gets him into the club, and pretty much keeps him there when he demonstrates that he not only loves rhythm and blues (otherwise known as "race music") but knows more about the appetite for it than anyone else.
In the local department store where he works, his disastrous lack of ability has seen him bounced from department to department. When he asks the manager to let him play music in the store with the idea of selling the records he's playing, his boss agrees, thinking the hit parade is going to be all about Perry Como.
Huey's got other ideas and plays the music he loves, which turns the white kids inside out with glee. His neck was on the chopping block to sell 5 records "or else," and he winds up selling 29. Clearly, Huey knows what the public wants.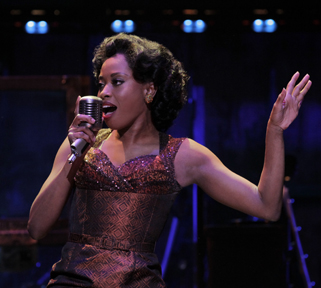 He soon talks his way into a job at a radio station. Same thing happens, and Calhoun uses his instincts to shoot the ratings through the roof. He also creates his own trademark all-purpose expression -- "Hockadooo!"
Success leads him to stage Cavalcade Concerts and make a name for himself. Eventually, he gets his own television show and becomes the newest big thing in Memphis.
The problem through all of this is that he loves the lady singer more than ever. She loves him as well, but cultural morays forbid their relationship, which becomes the sticking point again and again,
Through his influence, Felicia becomes a star, locally at least. But she wants more out of it and longs to leave the prejudice behind and head North where she can live in peace. When Huey resists in favor of staying in Tennessee, she goes behind his back and makes a deal that proves to be her ticket out of town. Which ultimately leads to Huey's self-destruction.
Throughout, the music is spirited, although some of the songs do sound interchangeable. At the heart of it all, Fenkart is a thoroughly believable southern boy, giving it every nuance of 50's Tennessee. And Boswell sings with a powerhouse voice that rattles the roof.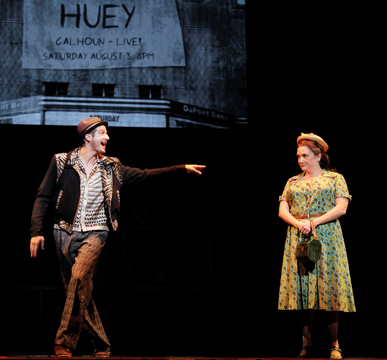 In supporting roles, Horace V. Rogers is Felicia's protective brother, Rhett George is the traumatized and silent Gator who ultimately finds his voice, William Parry is great as Mr. Simmons, the long-suffering radio station owner who clashes again and again with Huey, and Will Mann is a dynamo as the quiet radio station maintenance guy who eventually finds a place in the television spotlight. Stealing the show is Julie Johnson (above, with Fenkart) as Huey's prejudiced and very expressive mother. She's wonderful in the first act, comically dealing with what she perceives as her deadbeat son. And then in Act Two, when Huey hits it big and changes her life as well, she tears it up with "Change Don't Come Easy" and pretty much stops the show.
As directed by Christopher Ashley, "Memphis" doesn't take it all far enough and deep enough to deliver the earth shattering effect you might expect to be the sum of its parts. But it's an entertaining night with an energetic cast selling a social message that often drew gasps from the audience on opening night.
"Memphis" is at The Colonial Theatre through December 23. For information, call 1-866-348-9738.
-- Production Photos: Paul Kolnick
-- OnStage Boston