A Review

Lost In Mistranslation
By R. J. Donovan
Like a fish out of water, Cleveland businessman Daniel Cavanaugh is in China trying to secure a big bucks contract for his family's sign-making company. In actuality, his company is not quite what it seems, he's out of his element because he's not familiar with the customs, and he doesn't speak the language. Plus, his Mandarin-to-English-to Mandarin translator is a nightmare.
Such is the international state of affairs in Henry David Hwang's comedy, "Chinglish," receiving its regional premiere at Lyric Stage Company of Boston. Hwang, who also wrote "M. Butterfly," picked up three Obie's for "Chinglish" along with the Tony Award as Best Play.
Hwang has fashioned a very simple idea into a fairly complex evening. And it can be a challenge for audiences to keep up, since a hefty portion of the dialogue, delivered in Mandarin, is translated onto a panel above the playing area. And since a good deal of the humor involves those mangled translations, the timing has to be exact for the humor to hit a home run while your eyes dart back and forth from watching the actors to reading the translations.
At the first Sunday matinee, it worked for the most part. However, a couple of sequences suffered from being just a half-breath off. And with humor, timing is everything. No doubt, the delivery of the rapid fire projections will reach a perfect pacing with a couple of performances' practice.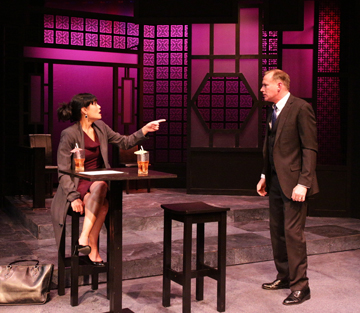 That said, the story allows the audience to identify nicely with Cavanaugh's dilemma. He's often at the mercy of those around him. Is his translator representing his best interests? Are his proposed Chinese clients mocking him? Is any of this going to work?
At the start, he's given a rundown of the rules of order. Feign modesty but project that you're a player. Downplay your accomplishments, but make sure there's someone on hand to dispute your modesty and sing your praises. The game goes on and on, with Cavanaugh not really having a handle on much of it.
One of the obstacles with Cavanaugh getting the contract is the client's fear that the American businessman will make a mess of the wording on the signs he wants to produce. In fact, the Chinese people themselves (in the play, anyway) haven't got a clue about the language, so they have little reason to be skeptical of others. (Their current signs include "Handicapped Restroom" becoming the malaprop "Deformed Man's Toilet.")
In truth, he's a former Enron employee whose family business was being run into the ground by a relative. When he finally took the reigns, it was too late. Now there's no office, no staff and no business -- unless he can finesse this trip to China and put it all right again.
Hwang crafts a first act that dovetails nicely into a satisfying second half. And without giving away the enlightening result, he allows Cavanaugh to succeed, not by playing the game, but by using truth to allow the game to play itself out.
Barlow Adamson (above photo) is Daniel Cavanaugh. It's nice to see him back on stage in such a fresh play. Having to vary between hapless outsider and understated mogul, he succeeds precisely by giving the audience a performance that allows them to put themselves in his shoes.
Alexander Platt is Peter Timms, Cavanaugh's British consultant-for-hire who's supposed to get him on the inside track but who has a thing or two to hide himself. In a world where everyone's only thinking of themselves, he's playing a game of his own -- two actually -- and it doesn't turn out well for him.
The Chinese Minister, played by Michael Tow, is the officious man Cavanaugh needs to have sign on the dotted line. Xi Yan, played by Celeste Oliva (above photo with Adamson), is his right hand Vice Minister of Culture, who's learned how to play her own game to perfection. She's the Ice Queen who adds a touch of sex to the proceedings. In a culture we've been told relies on honor, she ruthlessly uses her ambitions and her body to secure her future -- all very quietly, of course.
Tiffany Chen, in a pair of blood red high heels that stand out against the dark set, is very amusing as Cavanaugh's initial translator. Liz Eng as Zhao adds an authentic cultural touch with a series of brief traditional dances. And in a case of remarkable transformation, Chen Tang fills multiple roles as a Judge, a translator and more. He's so completely different in each that I had to check the program when fewer actors than I expected came out for the curtain call.
Larry Coen directs the production with an eye on keeping the pace bright. Having seen photos from previous productions, I was impressed by Dahlia Al-Habieli's scenic design. Previously, the play has used very realistic scenery to set the location: business office, restaurant, hotel room and so on. At Lyric, Al-Habieli uses the space quite creatively by anchoring the story on a multi leveled, diamond-shaped raised platform enhanced by squares, rectangles and cubes (plus one hexagonal window) to place the action.
Despite the language challenges comically showcased, "Chinglish" demonstrates not how different cultures can be, but how similar people really are.
"Chinglish" is at Lyric Stage Company through December 23 . For information, call 617-585-5678.
-- OnStage Boston