A Review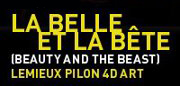 Brooding Visions
By R. J. Donovan
Lemieux Pilon 4D Art's "La Belle et la Bête (Beauty and the Beast)" overtakes the Cutler Majestic Theatre with a brooding darkness that's established from the moment the houselights dim. What follows is an experience rather than a performance. Dazzling 3D technical achievements on stage have horses galloping from the mist, specters reaching from mirrors, and holograms drifting in and out with a ghostly mire.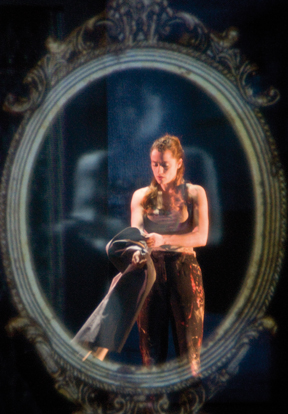 In a contemporary reimagining of the original story by Madame de Villeneuve (and light years away from anything Disney has ever dished out), "La Belle et la Bête" is a look at the dark side of fairy tales. Where Little Red Riding Hood is likely to be working the streets, and the Seven Dwarfs are terrorizing anyone who dares cross their diminutive paths.
As presented in its U.S. Premiere by ArtsEmerson, the award-winning, Lemieux Pilon 4D Art production has the pacing and overall tone of a dark dream. Not quite a nightmare, but still a haunting world of danger and uncertainty, marked by pain and grieving.
Here, Belle (Benedicte Decary) is a tormented artist, daughter of a reputable art dealer. She's suffered the tragic loss of her mother, which comes to influence her stark artistic choices. Blood red paint slashes her work -- and the stage. Through her father's work, she meets a tortured, disfigured soul -- The Beast (Vincent Leclerc) -- who roams the shadowy corridors of his castle in a hooded shroud, having no human interaction except for the unseen women who provide sexual favors for compensation.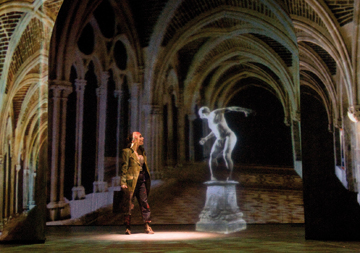 The evening is hosted and observed by La Dame (Diana D'Aquila), a narrator whose methodical and measured speech pattern provides the perfect tone for this ominous style of storytelling. "Who am I?" she demands with dramatic pause. "Who are you?"
Performed in English, the 90 minute multidisciplinary production moves at its own pace, which may not be to everyone's taste in today's world of impulsive communications. But it's fully in keeping with the mystery of a time altered dream state. Actors interact with 3-dimentional imagery while amazing holograms and projections fill the stage with an eerie, mutated form of realism, often reaching out into the theater with brambles, castle walls and eventually, flying shards of glass.
Lemieux et Pilon's co-artistic directors Michel Lemieux and Victor Pilon have made a name for themselves by fashioning highly creative hybrid performances that blend new media into theater.
As stated on the company's own website; "Lemieux et Pilon have created a technology of virtual productions that makes it possible to present images on stage without a visible support, resulting in a new form of interdisciplinary practice. In their immersive creations, the connections between the real and the virtual are blurred, echoing the fusion of artistic disciplines."
All of which makes "La Belle et la Bête" an interesting addition to the ArtsEmerson season, which, as always, is devoted to sharing groundbreaking international theater with Boston audiences.
"La Belle et la Bête" is at The Cutler Majestic Theatre through December 9. For information, call 617-824-8400.
-- Production Photos: Yves Renaud
-- OnStage Boston