"Fully Committed"
At New Rep
December 19 - 30
New Repertory Theatre offers an inside look at the workings of a trendy New York restaurant when it presents Becky Mode's wry comedy, "Fully Committed," December 19 - 30 in the Black Box Theater at the Arsenal Center for the Arts, 321 Arsenal Street in Watertown. "Fully Committed" was named one of Time Magazine's Top-Ten plays of 2000.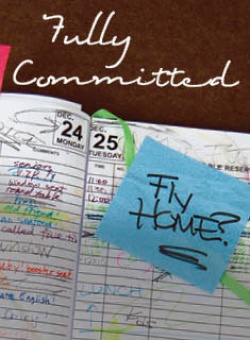 Directed by New Rep's Associate Artistic Director Bridget Kathleen O'Leary, the one-man "Fully Committed" features Gabriel Kuttner as Sam, an actor-slash-reservation clerk at a 4-star Manhattan restaurant who is just trying to get home to the Midwest for the holidays.
While simultaneously being badgered by the snitty chef, he "handles" uppity demanding New Yorkers including Dianne Sawyer, Naomi Campbell's assistant, Sherry Lansing's secretary at Paramount Pictures, East Side socialites, and suspected members of the mafia. Sam turns the tables of rejection and resorts to accepting bribes in order to "give good table."
For tickets and information, stop by the box office, call 617-923-8487 or visit www.newrep.org.