A Review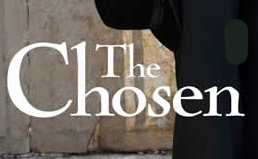 Silences Of The Heart
By R. J. Donovan
"The Chosen," at Lyric Stage, is a sensitive, thought provoking memory play, taking a generational look at the strengths and challenges of relationships -- between father and son, between best friends, and between man and his beliefs.
Based on the bestseller by Chaim Potok, the script has been adapted by Aaron Posner and Potok. Daniel Gidron directs.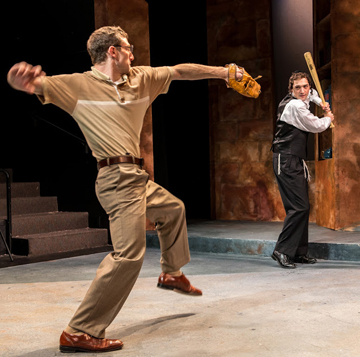 As the stage lights come up, we meet a middle-aged Reuven Malter, about to tell us a story from his childhood. Set in Brooklyn in 1944, the tale begins with two teenage boys meeting on the little league field. Opposing Jewish teams are playing one another.
Boy # 1 is the pitcher. Young Reuven Malter (Zachary Eisenstat) is an Orthodox Jew with a head for numbers. His father is a respected writer and scholar.
Boy #2 is at bat. Danny Saunders (Luke Murtha) is a Hasidic Jew who has no grasp of math. Rather he has an insatiable thirst for knowledge -- about psychology, the mind and the human condition. His father, Reb Saunders, is a rabbi who expects Danny to follow his career path and become a man of God. In his mind, Danny is "the chosen." At the same time, he barely speaks to his son and squelches the boy's interest in anything outside of The Talmud. He believes silence has the power to reveal.
On the field, Danny is known for smacking the ball directly at the pitcher's mound. And that's exactly where he drives it, intentionally connecting the baseball with Reuven's head, smashing his glasses and leaving him with an injury that may jeopardize his vision permanently.
However, out of crisis comes an unlikely friendship. Danny goes to the hospital, ostensibly to apologize, and winds up with a new friend -- provided his controlling father approves the new relationship. The boys ultimately wind up closer than any two brothers could be, although challenges loom.
Danny's secret is that he's been spending a huge amount of time at the library, reading things of which his father clearly would not approve. In turn, a gentleman he meets there helps guide him, answering questions and suggesting wonderful books. Without knowing it, he's been speaking with Reuven's father David.
As the adult Reuven narrates and occasionally steps into the story, we see the plot played out in mirror images, sometimes simultaneously. The boys in their respective homes. The fathers being parents. Reb Saunders speaking at temple. David Malter giving a pro-Zionist address at Madison Square Garden.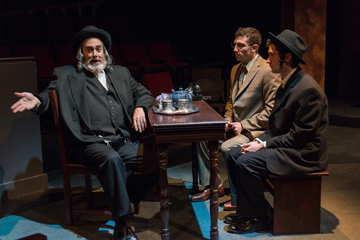 As kind and supportive as David Malter is, Reb Saunders (Joel Colodner at far left) is the opposite -- silent, stoic, never varying from his position or beliefs. Once the two boys become friends, Danny's father speaks to him even less, funneling all his thoughts for Danny through Reuven. He believes banishing Danny to silence will help him understand his true identity and purpose in life. If speech is silver, silence is golden.
Further conflicts arise from the two father's opposing philosophies, resulting in the boys being forbidden from seeing each other. The irony of the story that is that Reuven, the mathematician, decides to become a rabbi, and Danny goes on to become the scholar.
Adding depth, the story is set against the historic perspective of World War II, the Holocaust and the founding of Israel.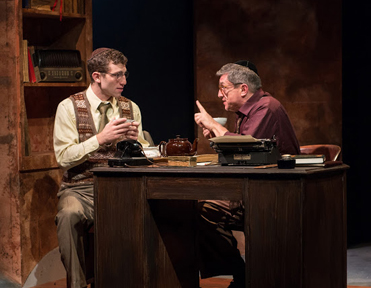 The five gentlemen all give nice performances in a touching evening. Charles Linshaw provides a warm, anchor to the story as the adult Reuven. Joel Colodner is committed as the strict and stoic Reb Saunders. His silence is almost palpable. And Will McGarrahan (at left with Eisenstat) gives a thoughtful and gentle performance as Danny's nurturing father.
The boys -- Zachary Eisenstat as the more worldly Reuven and Luke Murtha as the frustrated Danny -- are nicely matched, although in a couple of Murtha's more detailed speeches he raced his dialogue as though he were just trying to get it all out.
Brynna Bloomfield's set, carefully lit by John Malinowski, is filled with symbolism. And costume designer Mallory Frers has added a poignant touch that you almost don't notice until the end of the play. Throughout the evening, Danny and his father are both dressed in solid black. Reuven and his father are both dressed in brown. It's only at the very end of the play when Danny, his Hasidic locks gone, is about to venture out into the world that he appears in a contemporary stone gray suit -- with a black vest, perhaps representing his foundation.
"The Chosen" shows that religion can divide as powerfully as it can unite.
"The Chosen" is at Lyric Stage Company through November 17. For information, call 617-585-5678.
-- Production Photos:Timothy Dunn
-- OnStage Boston