The Gold Dust Orphans Present
The All-New
"Rudolph The Red Necked Reindeer"
Get ready for a racy, rollicking ride through the twisted imagination of Boston's foremost comedic troupe as The Gold Dust Orphans present their latest -- "Rudolph the Red Necked Reindeer." James P. Byrne directs the glitter-filled parody.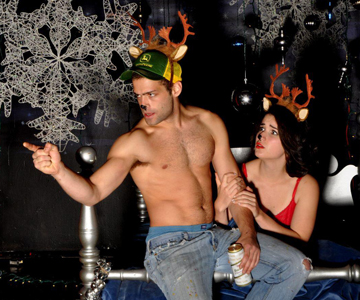 Featuring all new songs and dances, costumes and sets, "Rudolph" is ready to fly high from November 29 - December 23 at Machine, located at 1254 Boylston Street in Boston.

Based on the classic Rankin/Bass Christmas special "Rudolph the Red Nosed Reindeer," the Orphan's Rudolph is one sexy red neck with a southern drawl to boot. Along with special guest star Drew Barrymore (her dogsled pulled by E.T., of course), Rudy and his trusty friend Herbie are out to save Christmas by any means necessary. But only if they can manage to escape the evil clutches of The Abominable Icicle Snow Monster Lady!
"Rudolph" stars all your favorite Orphans as well as a few newcomers, featuring Gold Dusts' handsome new leading man Jesse James Wood as Rudolph!

FAIR WARNING: This is an ADULT parody! Leave the kiddies at home with a DVD of the original!
For tickets and information, visit http://www.brownpapertickets.