Reagle Music Theatre
Presents 30th Edition of
"Christmas Time"
December 7 - 16
Sarah Pfisterer and Rick Hilsabeck As Special Guests
The Reagle Music Theatre of Greater Boston brings back its annual holiday revue "Christmas Time," now in its 30th season, for 10 performances only, December 7 - 16 at the Robinson Theatre, 617 Lexington Street in Waltham.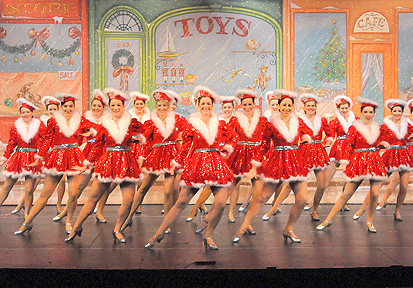 This joyous musical celebration presents all the comfort and joy of the season with heart-warming choral and dance numbers, colorful costumes, and custom scenery designed and painted by world renowned artist Robert Moody.
Created and directed by Reagle's Founder and Executive Producer Robert Eagle, "Christmas Time" boasts a feast of timeless holiday favorites plus a full orchestra. Broadway's Sarah Pfisterer and Rick Hilsabeck, who recently starred in Reagle's acclaimed production of "My Fair Lady," return as special guests for the holiday show.
Eagle commented, "People of all ages have made 'Christmas Time' a Boston area tradition. Like other time-honored classics such as 'The Nutcracker,' 'A Christmas Carol,' and the 'Radio City Christmas Spectacular,' our production is eagerly anticipated by thousands of subscribers each year. In this world of political, economic and cultural strife, 'Christmas Time' seems to offer families the simple gift of the true spirit of the season. It's a glorious cup of Christmas cheer!"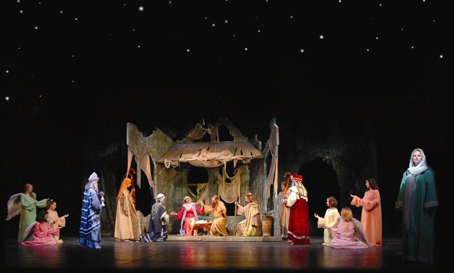 Audiences are treated to a cornucopia of sights and sounds. Perennial favorites include the "Parade of the Wooden Soldiers," performed by a bevy of precision tap dancers, and the inspirational "Living Nativity." (Through special arrangement with the famed New York troupe at Radio City, Reagle Music Theatre is one of very few organizations allowed to perform the trademarked "Wooden Soldiers" choreography.)
A choir of 40 adult carolers presents a "Victorian Christmas," while the "City Sidewalks" come alive with popular classics accompanied by a hand bell choir. The young ballerina Clara dances to visions of sugar plums in the "Teddy Bears' Nutcracker," and 100 boys and girls from grades 1 - 4 are transformed into holiday elves in the colorful "Santa's Workshop."
Eagle added, "Too often we get caught up in the hustle and bustle, commercialism, and superficial glitz and glamour that distract and pressure us at this time of year. Shows like ours endure because audiences find meaning in celebrating what really matters -- the promise of Peace On Earth and Goodwill To All as seen through the wonder of childhood."
For tickets and information, stop by the box office, call 781-891-5600 or visit www.reaglemusictheatre.com. (The theater is wheelchair accessible and offers ample free onsite parking.)