---

Bobbi Carrey & Will McMillan
Celebrate "Mostly Mercer"
December 6 At Scullers
On December 6, award-winning singers Bobbi Carrey and Will McMillan will present "Mostly Mercer," a celebration of composer Johnny Mercer, at Scullers Jazz Club, located in the Double Tree Guest Suites Hotel, 400 Soldiers Field Road in Boston. Doug Hammer accompanies on the piano. Performance time is 8 p.m.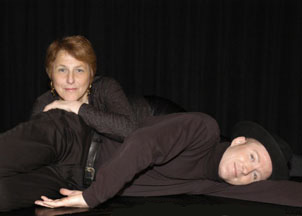 Over a prolific career that spanned 50 years and more than 1500 songs, Johnny Mercer wrote for 90 motion pictures, won 4 Academy Awards, wrote 6 Broadway musicals, was a top recording artist, and co-founded Capitol Records.
McMillan, a founding member of the Boston Association of Cabaret Artists, added, "Mercer set a standard for writing lyrics that is hard to equal. He was the one who rhymed palace, chalice, and aurora borealis in the song 'Midnight Sun.' He also achieved success as a composer, singer and entrepreneur. He was a true Renaissance man of American music in the 20th century."
In describing the metamorphosis of the show, Bobbi Carrey explained, "It all began when I discovered the Mercer song, 'PS I Love You,' and was haunted by it. Then we realized that Mercer also wrote the lyrics to 'Blues in the Night,' 'Moon River,' and 'Come Rain or Come Shine.' The momentum kept building until we decided we had the makings of a great show."
Mercer's output was enormous, spanning the early days of the swing era through the 1970's. For five decades, he collaborated with America's greatest composers, including Jerome Kern, Hoagy Carmichael, Duke Ellington, Harold Arlen, Henry Mancini, Barry Manilow and many others (including himself).
"The facts of Mercer's life are intriguing," said Carrey. "Unlike many of his musical collaborators who hailed from New York City, Mercer grew up in Savannah, Georgia, and returned there frequently for inspiration. He always traveled by train because of a fear of flying, and train imagery turns up in a surprising number of his songs. And we were amazed to learn that he had an ongoing, decades-long love affair with Judy Garland, who inspired some of his most poignant ballads."
Nearly every important American popular singer from Nat King Cole and Rosemary Clooney to Frank Sinatra, the Beach Boys and Dr. John, has recorded Johnny Mercer songs -- from "Anyplace I Hang My Hat Is Home" and "Satin Doll," to "That Old Black Magic," "Accentuate the Positive," "Days of Wine and Roses," "Skylark" and "Too Marvelous for Words."
McMillan said, "We could do a show of just Mercer's love songs, or just his Hollywood songs or just his song collaborations with Harold Arlen. But for now, we've chosen the songs that resonate most strongly with us. And although the show is mostly about Mercer, it's also about his collaborators, who numbered well over a hundred."
For tickets and information, call 617-562-4111 or visit www.scullersjazz.com.