Additional Productions At ArtsEmerson
To Feature Denis O'Hare and Maurice Hines
Following its first two critically acclaimed seasons of programming from all over the world, ArtsEmerson has just announceds two additional productions for its 2012-2013 Season, with a possibility of still more to come.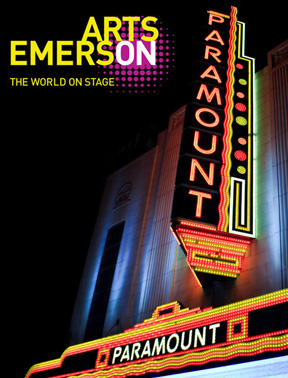 Explaining that the new season would mark a departure in programming philosophy, Executive Director Rob Orchard commented, "As a theatre producer, the constraints of the calendar are one of my greatest challenges. By leaving open time in the season, we allow for work that can be presented with shorter planning horizons. This enables us to bring to Boston the freshest, most exciting productions, and to react quickly to what's happening in the theatre world, both near and far."
Tickets to the new productions will go on sale November 26 to the general public. In addition, ArtsEmerson's annual one-day sale takes place on November 26, with tickets for the first two performances of every production priced at only $25. (Restrictions apply, see ArtsEmerson.org for details.) For ticket and membership information, visit ArtsEmerson.org.
The new productions are as follows: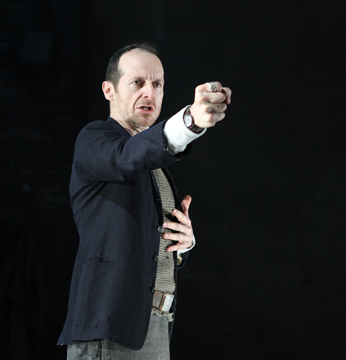 • April 27 – May 4, 2013
"An Iliad"
Starring Denis O'Hare
By Denis O'Hare and Lisa Peterson
Based on Homer's Iliad
Translated by Robert Fagles
Directed by Lisa Peterson
Paramount Center Mainstage
Recommended for ages 14+
Visionary theatre artists Lisa Peterson and Denis O'Hare have crafted a sprawling yarn based on Homer's epic poem in their OBIE-winning collaboration that begs the question: Has anything really changed since the Trojan War? "An Iliad" spins the familiar tale of gods and goddesses, undying love and endless battles told through the eyes of a single narrator, whose enigmatic experience of the war reverberates with today's headlines. Peterson's acclaimed, cutting edge work as a theatre director combines with O'Hare's inimitable range as an actor to create a tour de force performance of this sweeping account of humanity's unshakable attraction to violence, destruction and chaos.
Denis O'Hare won the 2005 Drama Desk Award for Best Featured Actor in a Musical for his performance in "Sweet Charity." His Broadway credits include "Assassins" (Tony nomination), "Take Me Out" (Tony, Drama Desk, Outer Critics Circle Awards), "Major Barbara" and "Cabaret." He has also appeared in numerous productions off-Broadway and in London, on film and television (including "True Blood" and "American Horror Story"). Lisa Peterson has won OBIE and Dramalogue Awards for her directing work, including productions on and off-Broadway, and at regional theaters. She is a member of Ensemble Studio Theatre and the Drama Department, and currently Resident Director at the Mark Taper Forum in Los Angeles.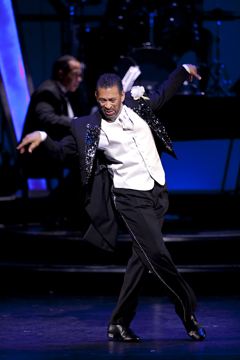 • May 14 –19, 2013
"Tappin' Thru Life:
An Evening with Maurice Hines"
Directed and conceived
by Maurice Hines
Cutler Majestic Theatre
Recommended for all ages
Life-long performer and Tony nominee Maurice Hines taps through his 40 years in show business in a celebratory revue. Through song and dance, Hines pays tribute to both his brother, Gregory, and the singers who have been an inspiration throughout his life, including Nat King Cole, Frank Sinatra, Joe Williams and Lena Horne. Bringing the history of tap dance to life, he incorporates memories of the past and performers of the future, featuring the virtuosic talents of the Manzari Brothers -- stars of the next generation of tappers. "Tappin' Thru Life" will be accompanied by the Berklee College of Music Jazz Ensemble with arrangements by Nelson Riddle.
Dancer, actor, choreographer, director and singer Maurice Hines has showcased his talents in a variety of settings, including Broadway, television and film. From the age of five, Maurice and his younger brother Gregory performed as a dance duo. In 1986, he created, choreographed and starred in the musical "Uptown...It's Hot!," which earned him a Tony Award nomination for Best Actor in a Musical. Since that time, Hines has choreographed and directed numerous productions as well as music videos.

ArtsEmerson's previously announced productions for 2012-2013 include:
• December 5 - 9
"La Belle et la Bête (Beauty and the Beast)"
Lemieux Pilon 4D Art
Conceived and directed by Michel Lemieux and Victor Pilon
Text by Pierre Yves Lemieux
Paramount Center Mainstage
• January 26 - 27, 2013
Maestro Artist Management presents
Theater-Atelier Piotr Fomenko
"Family Happiness"
Based on the novel by Leo Tolstoy
Directed by Piotr Fomenko
In Russian with English subtitles
Presented in association with ArtsEmerson: The World On Stage
Cutler Majestic Theatre
Recommended for ages 12 and up
• January 29 - February 10, 2013
"The Servant of Two Masters"
A Yale Repertory Theatre production
By Carlo Goldoni
Adapted by Constance Congdon from a translation by Christina Sibul
Directed by Christopher Bayes
Paramount Center Mainstage
Recommended for ages 14 and up
• February 27 - March 3, 2013
"Metamorphosis"
Vesturport Theatre and Lyric Hammersmith Theatre
By Franz Kafka
Adapted and directed by Gisli Örn Gardarsson and David Farr
Music by Nick Cave and Warren Ellis
Paramount Center Mainstage
Recommended for ages 12 and up
• March 22 - 24, 2013
"Emergency"
Daniel Beaty
Created by Daniel Beaty
Cutler Majestic Theatre
Recommended for ages 12 and up
• April 3 - 7, 2013
ArtsEmerson presents The New York Public Theater's production of
"Neva"
Written and directed by Guillermo Calderón
The Jackie Liebergott Black Box Theatre at the Paramount Center
English language premiere production
Recommended for ages 14 and up

• April 17 - 21, 2013
"Trojan Women"
Created and performed by SITI Company
Directed by Anne Bogart
Adapted by Jocelyn Clarke
Paramount Center Mainstage
Recommended for ages 14 and up
ArtsEmerson was established by Emerson College to program the beautifully restored 590-seat Paramount Mainstage; the versatile, intimate Jackie Liebergott Black Box Theatre ("The Jackie"), which can seat up to 150 people; the state-of-the-art 170-seat Bright Family Screening Room (all located within the new Paramount Center, a cornerstone in the revitalization of downtown Boston); and the historic 1,186-seat Cutler Majestic Theatre in the heart of the Theatre District, fully restored by Emerson in 2003.
Under the leadership of Rob Orchard, ArtsEmerson gives Boston audiences a new level of cultural choice, bringing professional American and international work to its four distinct venues. In addition to its acclaimed theatre works, ArtsEmerson presents adventurous, independent and repertory films on weekends, and offers a diverse music program including cutting edge indie rock and world music.
For ticket information, visit ArtsEmerson.org.
-- O'Hare Photo: Joan Marcus