Lee Blessing's "Chesapeake"
At New Rep
November 25 - December 16
New Repertory Theatre will present Lee Blessing's witty comedy, "Chesapeake" from November 25 - December 16 in the Black Box Theater at the Arsenal Center for the Arts, 321 Arsenal Street in Watertown. The production features Georgia Lyman and is directed by Doug Lockwood.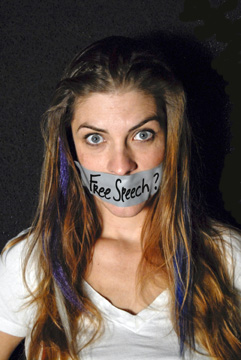 A liberal, provocative performance artist at odds with a conservative southern senator hatches a plot to kidnap the senator's beloved dog hoping to squelch threats of National Endowment for the Arts (NEA) funding cuts.
When a twist of fate brings these nemeses together, chaos ensues and karma bites back. This playful and smart comedy explores the age-old questions, "What is art?," "Who decides which art is worthy?," and "What kind of art deserves public funding?"
Called "eloquent" by Variety, "Chesapeake" gives new meaning to the term "man's best friend."
Artistic Director Jim Petosa commented, "Lee Blessing's play is a great way to engage New Rep's audience in an important discussion and create a new case for public support for the arts in a time when that notion is increasingly described as frivolous or unnecessary."
Lee Blessing is best known for his play "A Walk In the Woods," nominated for both a Tony Award and the Pulitzer Prize. His recent plays include "A Body of Water," "Whores," "The Scottish Play," "Black Sheep,"and "Fortinbras," among others. Eight of his plays have been staged at the Eugene O'Neill Theater Center in Waterford, CT, during the prestigious National Playwrights Conference. His work has also earned The American Theater Critics Circle Award, the L.A. Drama Critics Award, The Great American Play Award, The Humanitas Award, and the George and Elisabeth Marton Award. Three of Mr. Blessing's plays have been cited in Time Magazine's list of the year's Ten Best.
For information and tickets, stop by the box office, call 617-923-8487 or visit www.newrep.org.