---

"A Christmas Carol"
Returns To North Shore Music Theatre
Musical Ghost Story
Plays 12 Performances Only
December 7 - 23
From flying ghosts to the singing of carols and the scowl of Scrooge, there's something for everyone in North Shore Music Theatre's award-winning production of "A Christmas Carol." Artistic Director, Arianna Knapp, will direct this year's production.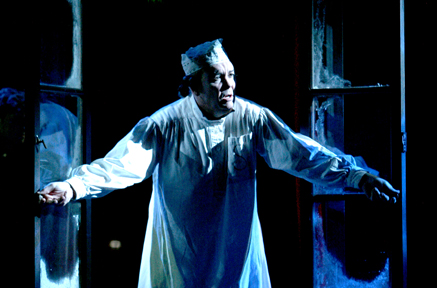 Throughout the run, the theater will be collecting toys in the lobby for Tiny Tim's Toy Drive. North Shore Music Theater will be accepting unopened, unwrapped toys for boys and girls ages 2 – 12. All toys will be donated to Toys for Tots.
Since its World Premiere in 1989, "A Christmas Carol" has been seen by more than a million theatergoers, including more than 400,000 school children. "A Christmas Carol" will play at the venerable Beverly theater-in-the-round December 7 - 23.
With traditional and original songs, colorful costumes, and special effects that have grown more exciting over time, "A Christmas Carol" has become a holiday favorite for North Shore audiences. Based on the Charles Dickens classic,"A Christmas Carol" tells the tale of curmudgeonly miser Ebenezer Scrooge, who's visited by the ghosts of Christmases Past, Present and Future in an effort to change his destiny and save his soul. The original adaptation by former NSMT Artistic Director Jon Kimbell and members of the NSMT staff follows Scrooge through a strange and magical journey where he ultimately discovers the true spirit of the holiday season.
This year's production will, once again, star NSMT audience favorite David Coffee. This marks David's 19th year playing Ebenezer Scrooge. The cast also includes Leigh Barrett (Ghost of Christmas Past, Mrs. Cratchit), George Dvorsky (Ghost of Christmas Present, Man 1), Kevin Patrick Martin (Ghost of Christmas Future, Young Scrooge), Matt Allan (Jacob Marley), Ryan Bates (Narrator), Russell Garrett (Bob Cratchit), Nathaniel Braga (Pearlie), Joshua Keith (Pearlie), Marlana Dunn (Belle), Patrick Ryan (Fred), Cheryl McMahon (Mrs. Dilbur/ Mrs. Fezziwig), J.T. Turner (Mr. Fezziwig), Tommy Labanaris (Old Joe), and Stephanie Granade (Meg) with John Budzyna, Andrea Collier and Laura Helm.
For tickets and information, stop by the box office at 62 Dunham Road , call 978-232-7200 or visit www.nsmt.org.
-- Photo: Paul Lydon