Trinity Rep Rings In The Season
With "A Christmas Carol"
November 10 - December 29
Trinity Rep in Providence will celebrate the 200th birthday of Charles Dickens with their annual presentation of his classic tale, "A Christmas Carol," as adapted by Adrian Hall and Richard Cumming. Performances will run from November 10 - December 29. The heartwarming holiday story of the power of forgiveness shows that anything is possible and hope can be just around the corner.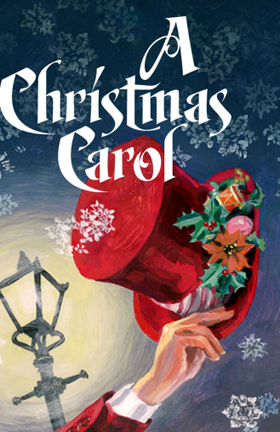 In this tale of redemption, the miserly Ebenezer Scrooge is visited on Christmas Eve by three ghosts who warn him to change his heartless ways -- or else. Directed by Associate Artistic Director Tyler Dobrowsky and starring resident acting company member Timothy Crowe as Scrooge, this year's production will feature musical numbers, special effects and costumes in the tradition of the season.
The company also features Janice Duclos, Mauro Hantman, Stephen Thorne, Rachael Warren, Joe Wilson, Jr.; Guest artists Tom Gleadow, Alyssa Gorgone; Brown/Trinity Rep MFA Actors Caitlin Davies, Daniel Duque-Estrada, Peter Mark Kendall, and Leicester Landon.
Dobrowsky commented, "I'm so thrilled to have Tim on board as our Scrooge. He's not only a fantastic actor, but he truly loves playing the part. My friend's son could not get over seeing Tim in the role a few years ago -- he kept saying, 'He's just so mean in the beginning and then he's so happy at the end,' which I think speaks to how much Tim relishes Scrooge's journey as a performer."
The director is also excited to bring the story back to 1843 London and a more traditional setting. "I'm over the moon that Eugene Lee has signed on with us to design this year's production. He hasn't designed 'Christmas Carol' here in over twenty years, and it is an incredible joy to work with him on the design process."
"A Christmas Carol" also holds a special meaning to Dobrowsky as it coincidentally was the first professional production he ever attended. "My childhood experience with this show has really informed how I am approaching staging the play. I want to create a show that anyone seeing live theater for the first time -- or the 31st time -- would really, really love. For me, that means magic, wonder, humor, and of course, some cool ghosts and surprises."
For tickets and information, stop by the box office at 201 Washington Street in Providence, call 401-351-4242 or visit www.trinityrep.com.