A Review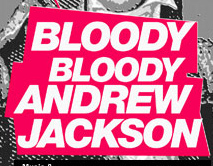 Surrendering To History
By R. J. Donovan
Take the 7th President of the United States, pour him into a tight pair of jeans, give him a backstory that turns him into a rock star, stir in a good dose of black humor, add more than a touch of foreshadowing, and you've got "Bloody Bloody Andrew Jackson," now receiving its Boston premiere at SpeakEasy Stage Company. The tagline on the poster is "History just got all Sexypants."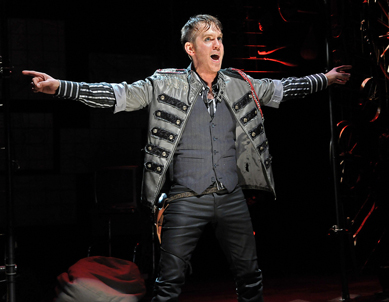 Like all good things at SpeakEasy, there's a polish to the proceedings. And with the elections looming, there's a hipster urgency to it all.
The young cast is a formidable group, led by the hard working and spot on Gus Curry (left) as Jackson, who's onstage pretty much for the entire hour and 45 minute show (no intermission). With a driving score by Michael Friedman and an imaginative book by Alex Timbers, the point that's struck again and again is how little the country -- and politics -- have changed since the 19th century.
They had scalpings and smallpox and the Second Bank of the United States. We've got drive-bys, fungal meningitis and Wall Street bail outs.
The privileged watch out for themselves, the gap between the haves and the have nots is pretty daunting, decisions are rarely made based on the facts, power corrupts and "we" have to take the country back from "them" before its ruined.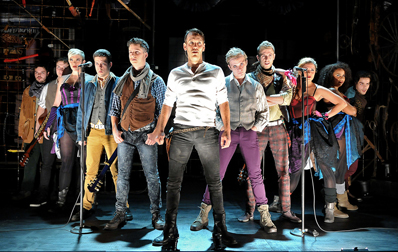 Set in an industrial sort of warehouse, the production's prop-house walls are filled with maps and mirrors and guns and more, thanks to Eric Levenson's designs.
The evening starts (at left) with the cast assembled before us as themselves, about to give a rock concert. We quickly move into the past for a Cowboys-and-Indians look at America in the making. Young Andrew, living in the depths of Tennessee, is soon left an orphan when his entire family is wiped out by Indians -- which is also known here as "dying of cholera."
From there, the scenes shift like rapid fire sketches, the dialogue a quirky mash up of colonial banter and contemporary shorthand. How can you not love a show that plays up its anachronisms by having the 1820s Jackson preface an aside with, "Oh, and B T dubs...."
We see Jackson, the maverick, disgruntled with his country, tossing about George Washington's name, falling in love with the young woman (Alessandra Vaganek) who saves his hide, making decisions willy-nilly, trying to railroad native Americans, and bloodletting before making love. Along the way, he just happens to create the Democratic party. And through it all, Curry gives "Old Hickory" an arrogant superiority.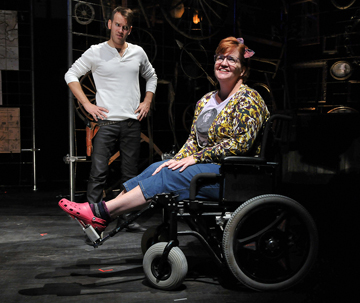 To help move the plot along, a narrator -- ala "Rocky Horror" -- has been provided. Rolling around in a wheelchair, Mary Callanan (at left) is wonderful as the storyteller, endlessly cheery, with a pretty Sally Rodgers bow in her hair and Pepto Bismol pink crocs caressing her tootsies. Plus she's always at the ready with a juicy juice box should the soon-to-be President need to quench his thirst.
Striking the right tone of irony and humor with something like this can be dicey. And director Paul Melone succeeds nicely, although he sometimes allows a couple of Jackson's cabinet members and advisors to camp it up so similarly that they start to become interchangeable. That said, Josh Pemberton as Martin Van Buren is always fun to watch. As he says with a dismissive tone, "That's just laissez UN-fair." And ensemble member Amy Jo Jackson (below) does a smashing job with "Ten Little Indians," describing the decimation of the American Indian population.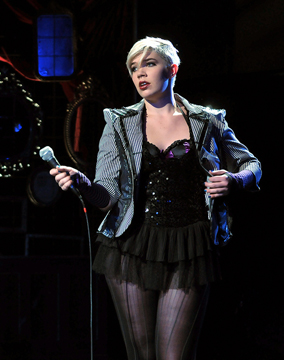 Special side note about Melone. He's General Manager at SpeakEasy, and his history and vision as a director with the company has given Boston audiences a diverse collection of really excellent productions ranging from "Adding Machine: The Musical" to "The Little Dog Laughed," "Fat Pig," "The Shape Of Things" and more." Jackson" is a firecracker that's as interesting and compelling as all the others.
The musicians for the show are located onstage to our left, incorporated into the action as a sort of music hall band with a contemporary spin. Conductor Nicholas James Connell steps center stage more than once, scoring nicely with "Second Nature."
While time may have softened and romanticized the sharp edges of our early politicians, the show is founded in truth. It turns out Andrew Jackson was a pretty slimy sort, engaging in dishonesty, ethnic cleansing and bigamy. In the end, the show questions whether history will see him as a great leader or a genocidal monster.
Either way, dude's got a song in his heart. And a country to save.
"Bloody, Bloody Andrew Jackson" is at the Calderwood Pavilion through November 17. For information, call 617-933-8600.
-- Production Photos: Craig Bailey / Perspective Photo
-- OnStage Boston