Happy Medium Theatre Presents
New England Premiere Of
"The Revenants"
A Zombie Play With Brains
Happy Medium Theatre intends to challenge audiences with "The Revenants," written by Scott T. Barsotti and directed by Mikey DiLoreto. The production plays October 12 - 20 at the Factory Theatre, 791 Tremont Street in Boston.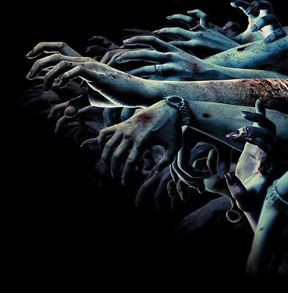 "The Revenants" focuses on two married couples barricaded in a basement during a violent uprising of the undead. As supplies run low and hopes dwindle, it's revealed that two of the spouses are infected . . . and getting hungry. Faced with the true meaning of commitment, husbands and wives must ask of each other: When does love die?
The cast includes Tim Fairley, Lizette Marie Morris, William Schuller, Audrey Lynn Sylvia, Deirdre Benson and Barbara DiGirolamo.
Scott T. Barsotti is a playwright and performer originally from Pittsburgh, PA, currently living in Chicago. While he writes plays of all kinds, he places a particular emphasis on pieces in and inspired by the horror genre. He includes among his works: "McMeekin Finds Out," "Kill Me," "Jet Black Chevrolet," "Brewed," and an adaptation of Robert Louis Stevenson's The Body Snatcher. Resident Playwright at Chicago Dramatists, he is a company member of WildClaw Theatre and Curious Theatre Branch, and an artistic associate of Collaboraction.
For tickets and information, visit www.happymediumtheatre.com
"The Revenants" is not suitable for persons under the age of 15.