"Beat Generation" At Merrimack Rep
October 10 - 14
Festival Celebrates Writer's Legacy, Contemporary Authors
Staging of Beat Icon's Only Full-Length Play
Is Centerpiece of October Event
When Merrimack Repertory Theatre and the University of Massachusetts Lowell bring "Beat Generation," Jack Kerouac's only full-length play, to the stage for the first time in October, the premiere will be just one of many events focused on the legacy of the Beat Generation icon. Born Jean-Louis Kerouac in 1922, Kerouac is Lowell's most famous native son.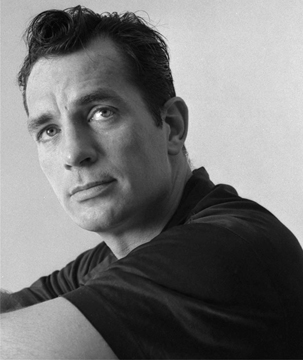 The Jack Kerouac Literary Festival includes not only eight performances of the play but also a host of free programs that draw on Kerouac's works and his history as well as the next generation of writers inspired by his work. Both the Festival and "Beat Generation" open Wednesday, October 10, and run through Sunday, October 14.
Directed by Charles Tower, "Beat Generation" is a story of friendship and karma set in the 1950s with characters and dialogue capturing the Beat mentality at the roots of American counterculture as only Kerouac could.
Taking place five years after the final road trip that ended the novel On the Road, "Beat Generation" follows a group of friends (based on Kerouac, Neal Cassady, Allen Ginsberg, Gregory Corso and others) over the course of one day in 1955. The characters visit various locations around New York City and converse on philosophy, spirituality, and horse racing, among other topics. Written in Kerouac's loose, jazz-prose style, the play is both a comedic look inside the Beat movement and a reaffirmation of the power of friendship.
MRT and UMass Lowell's production of "Beat Generation" will be performed as staged reading. Actors will carry scripts, and there will be an abstract set to represent the three locations - a New York apartment, the race track and Neal Cassady's ranch house. Actors will be in costume, and there will be props, lights, sound, and live music from a saxophonist.
"Beat Generation" stars Tony Crane as Buck (based on Kerouac) and Joey Collins as Milo (based on Neal Cassady). "Beat Generation" will also feature Che Ayende, Larry Bull, Armin Shimerman, Elise Arsenault, Brian Quijada, Kitty Swink, Stephanie Bates, William Connell , Tamara Hickey, Christopher James Webb, Seumas F. Sargent and Jean Lambert.
MRT Artistic Director Charles Towers commented, "We've assembled an amazing cast to speak Kerouac's words aloud for the first time ever and bring them to life. Some are MRT returnees along with a lot of new faces (or I should say 'voices' since speaking the words is the primary focus of a staged reading). We have actors coming from New York, L.A. and Boston who all reflect MRT's usual caliber of acting talent. There's no question that these eight performances are going to be a gas."
Joey Collins previously appeared in "Beasley's Christmas Party," William Connell portrayed Bill Page in last season's production of "The Voice of the Turtle" and Tamara Hickey appeared in "Aunt Dan and Lemon." All other actors will be making their MRT debuts.
The play's premiere is being presented in Lowell with the support and collaboration of UMass Lowell's Jack and Stella Kerouac Center for the Public Humanities and Kerouac Literary Estate representative John Sampas.
For more information on the 2012 Jack Kerouac Literary Festival, please visit www.uml.edu/artsandideas.
For tickets and information, stop by the box office at 50 East Merrimack Street in historic downtown Lowell, call 978-654-4678 or visit MRT.org.