"Uncle Vanya" Returns
At Apollinaire Theatre Company
Chekhov's Tragicomedy Adapted By Craig Lucas
Last season's "Uncle Vanya" at Apollinaire Theatre played to sold out houses, was honored with three Elliot Norton Award nominations, and left many on the waiting list hoping for a return engagement.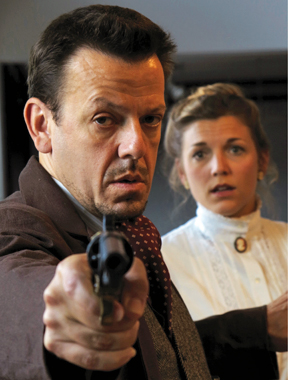 So Apollinaire has announced that "Uncle Vanya" will return on October 10 with six members of the original cast, including Ronald Lacey reprising his role as Astrov and Kevin Fennessy as Telegin. Diego Arciniegas (as Vanya, at left), Kate Paulsen (as Elena), and Jack Schultz will be welcomed to the cast. Apollinaire's artistic director, Danielle Fauteux Jacques (Elliot Norton Award Outstanding Director), directs the Chekhov classic as adapted by Craig Lucas. Performances run at Chelsea Theatre Works, 189 Winnisimmet Street in Chelsea from October 10 - November 4.
Diego Arciniegas is an Elliot Norton Award winning actor, and the former Artistic Director of the Publick Theatre Boston (2001-2011), where he directed Shakespeare and modern classics, including his own translation of Anton Chekhov's "The Seagull." Diego has performed at the Huntington Theatre ("Two Men of Florence," "The Rose Tattoo," "Dead End"), The American Repertory Theatre ("The Balcony"), New Repertory Theatre ("Dollhouse," "Romeo and Juliet," "Thom Pain -based on nothing," "Rosencrantz and Guildenstern are Dead"), Trinity Repertory Theatre, Merrimack Repertory Theatre, Lyric Stage Company of Boston, Underground Railway Theatre, and the Nora Theatre Company, among others.

On a remote, no longer grand country estate, the household is in disarray. The celebrated Professor Serebriakov and his stunning, much younger second wife Elena have returned, not just for the summer but to stay. Serebriakov's daughter Sonya and her Uncle Vanya have devoted their lives to sustaining the estate so the professor can concentrate on loftier pursuits in the city. Now work and sleep are interrupted, meals happen when the Professor is in the mood, and Vanya wakes to the realization that the Professor's work is a sham.
Disillusioned with his former idol, Vanya feels cheated by life, and to top it off, he's hopelessly in love with the professor's wife. Sonya is also hopelessly in love, with the charismatic doctor Astrov. His increasingly frequent visits, inspired by the force of Elena's attraction, only fuel the chaos, primed to ignite when the Professor reveals a shocking plan.
Uncle Vanya's four scenes are each staged in a distinct space in the theater, with the audience moving to each new location as the action continues. Seating is limited to 30 guests per performance to accommodate the intimate staging.
Apollinaire Theatre Company is known for producing "environmentally" staged outdoor summer theater, most recently presenting "Rosencrantz and Guildenstern are Dead" and "Cyrano de Bergerac" in multiple locations in Mary O'Malley Park. "Uncle Vanya" marks the company's first environmentally staged indoor production, taking advantage of the natural architecture of the Chelsea Theatre Works. Performances will be followed by a Reception with the actors in the Gallery.
For tickets, call 617-887-2336 or visit www.apollinairetheatre.com.
Photo: Danielle Fauteux Jacques
-- OnStage Boston