Reagle Music Theatre
Pays Tribute To The Greatest Generation
"Remembering The 40's"
Veterans Invited To Enjoy The Show Free Of Charge
Glenn Miller, the Andrews Sisters, Bob Hope, Kate Smith, Burns & Allen and Abbott & Costello all return to the Robinson Theatre at 617 Lexington Street in Waltham on October 13 and 14 as Reagle Music Theatre of Greater Boston brings back its popular WWII revue "Remembering the '40s."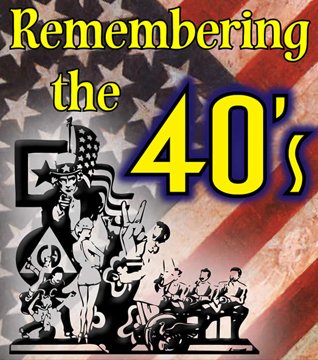 Featuring classic songs of the era, a tribute to the musicals of Rodgers & Hammerstein, a cavalcade of stars from the Rexall Radio Hour, and the unmistakable Big Band sound, "Remembering the '40s" is a touching trip down memory lane saluting America's Greatest Generation.
Just joining the cast are the World Famous Precision Dancers featuring 12 former Radio City Music Hall Rockettes. Dancers will be flying into Waltham from Cincinnati, Los Angeles, North Carolina, Pittsburgh, and Toronto exclusively for the three Reagle performances. Broadway veteran and former Rockette Sandra Philpott of Boston will choreograph. (Philpott appeared in the very first production of "Remembering the '40s" at Reagle Music Theatre in the 1970s.)

Songs like "I'll Be Home for Christmas," "I'll Be Seeing You," "This Is the Army," "Boogie Woogie Bugle Boy," "There Is Nothing Like a Dame" from "South Pacific" and the rousing title number from "Oklahoma!" will take audiences on a sentimental journey through the war years and beyond.
Talented impressionists familiar to Reagle audiences will recreate classic comic routines like Abbott and Costello's "Who's on First" and Jack Benny and Mel Blanc's "Si Sy Sue."

This year, Veterans of all wars are invited to enjoy "Remembering the '40s" free of charge. In past years many vets have attended in uniform, adding a deep sense of patriotism connecting the performers to the audience in a very special way. When the entire theater joins the cast in singing Kate Smith's version of "God Bless America," the room rightfully fills with pride.
For tickets and information, visit the box office, call 781-891-5600 or visit www.reaglemusictheatre.org.
Seniors (60 and older) received $3 off adult prices. Student rush seats at 50% off are available one hour before curtain. A valid college ID is required.