"The Motherf**cker With The Hat"
Opens Fall Season At SpeakEasy Stage
Boston Premiere Of The Bold Comedy Hit
With The Unspeakable Title
A 2011 Tony nominee for Best Play, Stephen Adly Guirgis' "The Motherf**cker With The Hat" has been touted as an insightful comedy about love, fidelity and facing one's demons. In its Boston premiere, the play opens the fall season at SpeakEasy Stage Company. Performance dates in the Calderwood Pavilion at the Boston Center for the Arts are September 14 - October 13.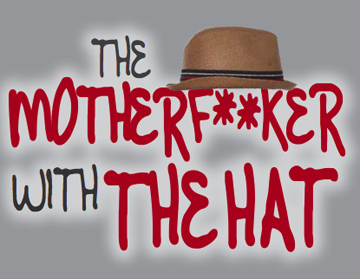 The story centers on ex-con Jackie, who thinks he's finally turned his life around now that he's sober and has a new job. But when he finds a strange hat in the apartment he shares with his girlfriend, he's back on the brink and embarks on a 12-Step quest with his AA sponsor Ralph D. to find the hat's owner.
The play is the latest work by New York playwright Stephen Adly Guirgis, and the first of his works to make it to Broadway. A co-artistic director of New York City's LAByrinth Theater Company, Gurigis has had his plays produced on five continents and throughout the United States. His works include "Our Lady of 121st Street" (Drama Desk, Lucille Lortel, Outer Critics Circle Best Play Nominations, 10 Best Plays of 2003); "Jesus Hopped the 'A' Train" (Edinburgh Festival Fringe First Award, Barrymore Award, Olivier Nomination for London's Best New Play); "In Arabia, We'd All Be Kings" (2007 LA Drama Critics Best Play, Best Writing Award), "The Last Days of Judas Iscariot" (10 Best -Time Magazine & Entertainment Weekly), and "The Little Flower of East Orange" (which starred Ellen Burstyn and Michael Shannon).
Norton Award-winner David R. Gammons (SpeakEasy's "Red," "Blackbird") will direct the production featuring Jaime Carrillo, Evelyn Howe, Melinda Lopez, Maurice Emmanuel Parent and Alejandro Simoes.
"The Motherf**cker With The Hat" originally opened on Broadway at the Gerald Schoenfeld Theatre on April 11, 2011. The cast featured comedian Chris Rock in his Broadway debut, along with Bobby Cannavale, Annabella Sciorra, Elizabeth Rodriguez and Yul Vázquez.
For tickets and information, stop by the box office at 527 Tremont Street in Boston's South End, call 617-933-8600 or visit www.SpeakEasyStage.com.