Boston Playwrights' Theatre's
2012 - 2013 Season
Boston Playwrights' Theatre's 31st season of new plays in Boston will include four productions, beginning with a unique collaboration between Company One, Underground Railway Theater and Central Square Theater.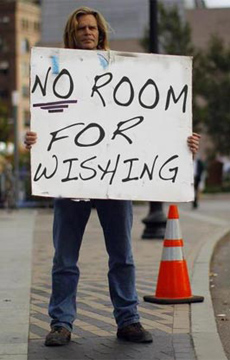 "No Room for Wishing," written and performed by Danny Bryck, is a one-man show about the joys and perils of protest, in particular the Occupy Boston movement. The production will be presented at Company One (Boston Center for the Arts, September 13 - 22), at Underground Railway Theater (Central Square Theater, September 30 - October 9), and for one night only (September 24) at Boston Playwrights' Theatre.
Compiled from interviews and live recordings during the occupation of Dewey Square in Fall 2011, "No Room for Wishing" follows Occupy Boston from its formation, through clashes with the police, infighting among the activists, legal battles and collective victories, to its eviction by the City of Boston. One of Boston's most dynamic young theater-makers portrays dozens of real-life characters in this fiercely immediate, up-close-and-personal encounter with our city, our nation and ourselves.
The season continues with:
"The Company We Keep"
October 4 – 21
Boston Playwrights' Theatre – Odyssey Theatre
949 Commonwealth Avenue
This is recent BPT alumna Jaclyn Villano's biting (pun intended) comedy of manners. People can joke all they want to about attorneys and sharks, but in this case the metaphor is apt. New to Georgetown with a law professorship and a freshly renovated home, attorneys Harry and wife Ellie are having difficulty settling their 12-year-old son into the new school. When their best friends Katherine and Greg come to the housewarming with surprises of their own, what ensues tests the bonds of friendship, marriage, and parenthood in surprising, even shocking ways. Directed by Elena Araoz.
"The Sussman Variations"
November 1 – 18
Boston Playwrights' Theatre – Walcott Theatre
949 Commonwealth Avenue
Next is a comedy from Obie-nominated author Richard Schotter. Charlie Sussman's got it made. He's turning 75, and thankfully his family is joining the celebration. But maybe that's the problem. His kids hate his second wife, his son Jonathan is at war with both his own daughter (about college exams) and with his wife (about everything,) Harry's daughter is afraid to come out of the closet, and none of them can forgive Harry for divorcing their mother in the first place. Oh, and nobody wants to hear the songs from his latest musical. If only Harry could write the libretto for his Life, maybe then he'd be able to celebrate. Featuring Ken Baltin as Charlie, with original music by Phil Schroeder and direction by Jeff Zinn.
"Legally Dead"
February 7 – 24
Boston Playwrights' Theatre – Walcott Theatre
949 Commonwealth Avenue
"Legally Dead" is a a new black comedy from BPT alum Dan Hunter. Dad hasn't been here for a while -- five years, in fact -- and some of the family wants him dead. Legally, that is. After all, you can't sell the car dealership without a death certificate. Tommy's back from prison and he's sorry he ordered that hit man, Annie's fresh from her divorce and needs the dough, Rachel has found Jesus and needs to buy his love, and Mom's closet holds the answer to everything -- if only the dog would stop piddling in it. From the award-winning author of "La Tango en la Noche" and "Red Elm," "Legally Dead" cracks with Cadillacs, closets, and a cockapoo. Directed by Steven Bogart.
For tickets and information, call 866-811-4111 or visit www.bostonplaywrights.org. Season subscriptions are available.